Feature and Magazine Writing: Action, Angle and Anecdotes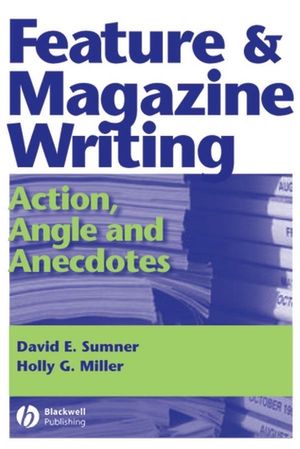 Feature and Magazine Writing: Action, Angle and Anecdotes
ISBN: 978-0-813-80519-1
May 2005, Wiley-Blackwell
312 pages
Product not available for purchase
Description
Consider the unique features of Feature and Magazine Writing: Action, Angle and Anecdotes. Its authors have taught magazine writing at universities for a combined 30 years and have earned success and acclaim for magazine writing and editing. Its comprehensive chapters cover the most complete range of topics ever included in a magazine and feature writing text. Its affordability makes it immediately applicable to the hundreds of journalism programs teaching "magazine writing," "feature writing" or similar courses. Authors Sumner and Miller have written a text that genuinely models its message through lively writing, touches of humor and a conversational tone. Coverage includes content too often missing or deficient in existing texts: finding original ideas; developing strong angles; writing for targeted, niche audiences; practical how-to instruction on the many different types of magazine articles; fresh perspective and advice from professional writers and editors; examples, exercises and sample, illustrative articles; glossaries of publishing terms in each chapter; how to find the best Web sites and databases for background research; and how to locate expert sources who are accessible for telephone interviews. Tightly edited, colorfully written, concise, and moderately priced, Feature and Magazine Writing is the textbook of choice for your future feature writers.
Introduction: Reading, Writing and Relevance.
Part I: Preparing to Write Feature Articles.
Chapter 1. Capturing Reader Attention.
Chapter 2. The Hunt for Fresh Ideas.
Chapter 3. Strong Angles and Focused Ideas.
Chapter 4. Creative Research and Reporting.
Chapter 5. Interviews: Moving Past the Predictable.
Part II: Writing Feature Articles.
Chapter 6. Action-Packed Writing.
Chapter 7. Strong Beginnings, Satisfying Endings.
Chapter 8. Anecdotes: The Color of Writing.
Chapter 9. The Structure of Writing.
Chapter 10. The Art and Style of Writing.
Part III: Creating Different Types of Feature Articles.
Chapter 11. The Wide, Wide World of Shorts.
Chapter 12. Picture This: The Profile Article.
Chapter 13. Real Life Dramas and Stories.
Chapter 14. How to Write How-to Articles.
Chapter 15. The Calendar-Content Connection.
Chapter 16. News Features, Trends and Issues.
Chapter 17. Writing to Inspire.
Chapter 18. Writing for the Business-to-Business Media.
Chapter 19. Writing for the Internet.
Part IV: Selling Feature Articles.
Chapter 20. Marketing Your Words.
Chapter 21. Writing Creative Query Letters.
Chapter 22. Copyrights and Wrongs.
Appendix: Back to Basics.
Index
"With clear writing and expertly crafted examples, this book goes beyond simply telling writers what to do and what not to do, but becomes a useful tool with its anecdotal evidence, challenging scenarios and actual sample writing how to become better feature writers."
Tia C.M. Tyree
District of Columbia Housing Finance Agency

"Expertly packaged and sharply written, Sumner and Miller's engaging text teaches not only basic elements of magazine writing, but also offers practical advice for today's developing journalist. Everything from sentence structure to story-pitching advice is vividly explained, and the authors wisely include points of view from members of the contemporary working press. Also noteworthy is a wealth of information regarding the Internet, perhaps the most valuable and treacherous tool for tomorrow's reporter."

David Abrahamson, Ph.D.

Helen G. Brown Research Professor of Journalism, Medill School of Journal,

Northwestern University