FedEx Delivers: How the World's Leading Shipping Company Keeps Innovating and Outperforming the Competition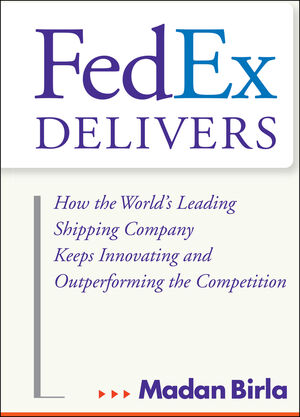 FedEx Delivers: How the World's Leading Shipping Company Keeps Innovating and Outperforming the Competition
ISBN: 978-1-118-42897-9
Jun 2012
215 pages
Description
An inside look at leadership practices that enabled the world's leading shipping company to outthink and outperform its competition

Using firsthand accounts from top leaders at FedEx, FedEx Delivers explains how the company became an international powerhouse and one of the most trusted global brands by using leadership practices that tapped into the creativity and commitment of its employees.

Both a compelling business story and a prescription for business success, FedEx Delivers presents a model to show how these practices created and sustained an innovation culture. Readers will learn how to apply this model to their organizations for developing a culture of innovation that evolves with the times and offers fresh solutions to new challenges.

Innovative thinking and disciplined execution are what made FedEx a market leader, and they can help any business in any industry do the same. Each chapter covers a different aspect of innovation with real-life stories that highlight its effectiveness, and offers valuable ideas that lead managers through the process of implementing those practices.

By breaking innovation down to its three simplest steps-generation, acceptance, and implementation of ideas-and offering proven leadership practices that really work, FedEx Delivers offers unique insight and invaluable advice on building an organization that can adapt to any challenge and meet any goal in today's highly competitive global economy.
Preface.
Acknowledgments.
About the Author.
Introduction.
Chapter 1. Innovating and Outperforming the Competition.
Chapter 2. FedEx's Innovation Journey.
Chapter 3. Why Organizations Do Not Innovate.
Chapter 4. The Five Dimensions of an Innovation and Performance Culture.
Chapter 5. Engage Employees in the Enterprise.
Chapter 6. Expect and Help Employees to Continually Grow.
Chapter 7. Create a Secure Environment for Expression and Acceptance of Creative Ideas.
Chapter 8. Encourage Collaborative Development of Creative Ideas.
Chapter 9. Tap Employees' Commitment.
Conclusion: Continuing to Lead the Way.
Bibliography.
Index.
"…well written and surprisingly readable…essential reading on business courses." (
EN Magazine
, September 2005)
"The book provides a blueprint for building and sustaining an innovation culture that engages every employee." (Supply Management, 8th September 2005)
FedEx Veteran and Insider: Birla was an executive at FedEx for 22 years. He joined the management team in 1979 when revenues were $400 million, when he left revenue had grown to $22 billion. Birla was a member of the Long Range Planning Committee where he worked closely with CEO Fred Smith. Birla still is considered an insider with many connections to the FedEx Leadership Institute; the last three years of his career he traveled the world facilitating the Leading for Innovation leadership development course.
FedEx Still Strong, After All These Years: FedEx, along with GE has been one of the business media's darlings, year-after-year the company has enjoyed phenomenal growth and is known for its innovative systems and management practices.
One of the greatest entrepreneurial success stories this century: Starting out with the legendary Yale term paper, becoming the largest single venture capital start up in the history of the US, and culminating in multibillion dollar international corporation, this is the inside story of the challenges and innovations this pioneering company has experienced.
This book takes the mystery out of innovation. It presents a step-by-step blueprint for building and sustaining an innovation culture that shows how leaders and organizations can make creative thinking and innovation a part of the infrastructure of the company.
In addition to the managers who will use this book to build and sustain an innovation and performance culture, corporate trainers will find FedEx Delivers to be an ideal resource for their leadership development programs. Academicians will use FedEx Delivers in their classes in leadership, innovation, engineering-management, international business, and organization development.