Fedora 6 and Red Hat Enterprise Linux Bible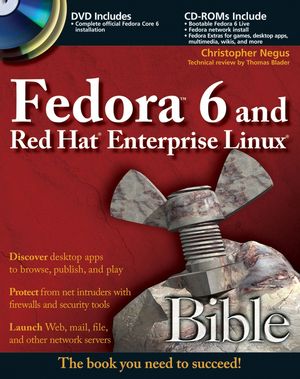 Fedora 6 and Red Hat Enterprise Linux Bible
ISBN: 978-0-470-08278-2
Dec 2006
1082 pages
Product not available for purchase
Description
More than a quarter of a million copies sold in previous editions!


From home desktop to enterprise server, here's all the Linux you need

With Fedora Core 6, you get the latest Linux technology and previews of upcoming Red Hat Enterprise Linux software. Run Fedora Core 6 live (no install required), install it to hard disk when you're ready, and add hundreds of Fedora Extras packages. Everything comes on the DVD and two CDs included with this book. Use the latest Linux desktop, server, and systems administration features as you learn skills that scale up to professional, commercial-quality Linux systems.

Configure Fedora or Red Hat Enterprise Linux to:
* Create documents, presentations, and spreadsheets with OpenOffice.org productivity applications
* Manage and play music (Rythmbox), video (Totem), and digital images (GIMP) on the desktop
* Communicate over the internet using Evolution e-mail, Firefox Web browser, and GAIM instant messanger

Try out cutting edge Fedora 6 features:
* Add 3D eye candy to your Fedora Desktop with AIGLX
* Install Fedora 6 on an Intel-based Mac to dual boot with Mac OS X
* Run Xen virtualization for multiple systems on your desktop

What's on the DVD and CD-ROMs?
* Install the complete Fedora Core 6 from the DVD.
* Boot Fedora 6 live and try it before installing it to your hard drive, or run a Fedora network install from CD #1.
* Add hundreds of Fedora Extras packages for gaming, multimedia, and more from CD #2.

System Requirements: Please see the Preface and Appendix A for details and complete system requirements.

Open for more!
* Explore the latest Fedora 6 features
* Find ten cool things to do with Fedora Linux
* Try out the Fedora 6 Quick Install

Explore the Latest Fedora 6 Features
Intriguing new features for Fedora Linux 6 include support for 3D accelerated desktop animations (with AIGLX) and software from the Mono Project, to run .NET applications created for Windows and Linux systems

Play with 3D desktop animations
Experimental 3D software lets you rotate workspaces on a 3D cube, choose 3D minimalize effects, and use 3D fade effects.

Run Mono applications in Linux
Mono Project software in Fedora will bring thousands of .NET applications in Linux. For now, try Tomboy sticky notes, Beagle desktop search tool, and F-Spot photo manager.
Part I: Getting Started in Fedora and RHEL.
Chapter 1: An Overview of Fedora and Red Hat Enterprise Linux.
Chapter 2: Installing Fedora.
Chapter 3: Getting Started with the Desktop.
Chapter 4: Using Linux Commands.
Part II: Using Fedora and RHEL.
Chapter 5: Accessing and Running Applications.
Chapter 6: Publishing with Fedora and RHEL.
Chapter 7: Gaming in Fedora and RHEL.
Chapter 8: Music, Video, and Images in Linux.
Chapter 9: Using the Internet and the Web.
Part III: Administering Fedora and RHEL.
Chapter 10: Understanding System Administration.
Chapter 11: Setting Up and Supporting Users.
Chapter 12: Automating System Tasks.
Chapter 13: Backing Up and Restoring Files.
Chapter 14: Computer Security Issues.
Part IV: Fedora and RHEL Network and Server Setup.
Chapter 15: Setting Up a Local Area Network.
Chapter 16: Connecting to the Internet.
Chapter 17: Setting Up a Print Server.
Chapter 18: Setting Up a File Server.
Chapter 19: Setting Up a Mail Server.
Chapter 20: Setting Up an FTP Server.
Chapter 21: Setting Up a Web Server.
Chapter 22: Setting Up an LDAP Address Book Server.
Chapter 23: Setting Up Boot Servers: DHCP and NIS.
Chapter 24: Setting Up a MySQL Database Server.
Chapter 25: Making Servers Public with DNS.
Chapter 26: Integrating Fedora with Apple Macs.
Appendix A: About the Media.
Appendix B: Running Network Services.
Appendix C: Red Hat Enterprise Linux 4 Features.
Index.
Extra Content


Because limitations exist on how big a book can be, for each new release of the Red Hat Fedora Linux Bible, the author must cut some sections to add room for new information. Some of the information deleted from the book, however, is still quite valid and useful, so the author has put it in this archive. To make room for new information, the author removed several sections covering software that was no longer part of the mainstream Fedora distribution. Those sections have been added to this archive. We have also put content here that was dropped from previous Red Hat Linux Bible editions, but still might be useful or interesting to some users. The files in this archive are stored in Microsoft Word Format; you will need a viewer capable of viewing Microsoft Word files to view the files. To see the topics available for download, as well as a few FAQs, review the Read Me First file.

Download