Feline Medicine and Therapeutics, 3rd Edition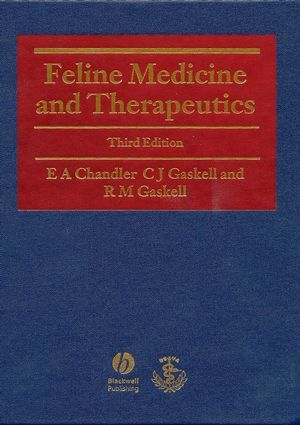 Feline Medicine and Therapeutics, 3rd Edition
ISBN: 978-0-470-68045-2
Apr 2008, Wiley-Blackwell
736 pages
Description
Knowledge of the cat has advanced rapidly in the 9 years since the second edition of Feline Medicine and Therapeutics was published. The primary object of this book remains the same however - to help veterinary surgeons and students to practise the art and science of feline medicine.
Special considerations in feline therapeutics.
A current approach to immunoprophylaxis.
Chemotherapy in the treatment of neoplasia.
An approach to toxicology.
Behaviour problems.
The Skin.
The Nervous System.
The Musculoskeletal System.
The Blood.
The Kidney.
The Lower Urinary Tract.
The Upper Respiratory Tract.
The Lower Respiratory Tract.
The Reproductive System.
Paediatrics, genetic/inherited diseases.
The Oral Cavity.
The Gastrointestinal System.
Liver and Pancreas.
The Eye.
The Cardiovascular system.
The Endocrine System.
Feline panleukopaenia.
Virus induced URT Disease.
Feline Leukaemia Virus.
Feline Immunodeficiency Virus.
Feline Coronavirus Infection.
Rabies Virus Infection.
Chlamydial infection.
Toxoplasma infection.
Feline Infectious Anaemia.
Other infections: Bacterial, Fungal, Odd Viruses, CS Fever, Tick borne.
Endoparasitism
* New edition of a well-known reference and text.
* Satisfies the demand for up-to-date scientific information for the veterinary surgeon
* Thoroughly revised to include all the latest developments in the field
* Includes contributions from a huge number of recognised veterinary experts