Female Caligula: Ranavalona, The Mad Queen of Madagascar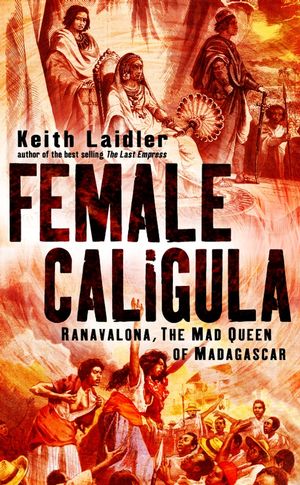 Female Caligula: Ranavalona, The Mad Queen of Madagascar
ISBN: 978-0-470-02223-8 November 2005 232 Pages
Description
'The seven christians stood together in the bright sunlight, bound with ropes singing a hyme to their foreign saviour as the spearmen advanced. Around them a croud of jostling men, women and children, more than sixty thousand strong...cheered enthusiastically as the spears were driven home and, one by one, the men and women fell and writhed on the sandy ground, their hymn fading slowly into silence...above the still writhing bodies, on a ridge, a score of crosses stood in mute witness, carrying their ghastly burdens, some of whom still lived despite the day and a half they had hung upon the wood.

As European colonists scrambled for control of Africa, a leader arose in the red island of Madagascar who, through ruthless determination thwarted the combined ambitions of all the major world powers. That leader and the author of this holocaust was no warrior but a diminutive woman of middle years, Ranavalona-Manjaka Queen of Madagascar, know to her subjects more simply as Ma Dieu. Under Ranavalona's despotic rule, hundreds of thousands of her people, possibly one-half of Madagascar's entire population, were murdered, starved or simply worked to death by her express command, while she enjoyed an eccentric and debauched lifestyle. For these characteristics, European history has remembered her reign as that of the Female Caligula.
1. Martyrdom.
2. The Great Red Island.
3. Polynesians and Pirates.
4. Beneath the Heavens.
5. The Malagasy Napoleon.
6. Priestess of the Ancestors.
7. La Visite Amicable.
8. The White Slave.
9. The Queen's Bath.
10. The Coming Storm.
11. Black Versailles.
12. An Embassy to Europe.
13. The Persecutions Begin.
14. The Buffalo Hunt.
15. The Great Conspiracy.
16. Lambert and Laborde.
17. 'A Strong Desire to See the World'.
18. Journey to the Queen.
19. Plots and Pianos.
20. The Coup.
21. The Final Years.
Epilogue.
Selected Bibliography.
Index.
"...jaw-dropping..." (
Conde Nast Traveller
, November 2005)
"...a new book reveals the extraordinary excesses of the woman whose enemies met the most unspeakable fates..." (Daily Express, 7th November 2005)
Laidler, an anthropologist, filmmaker and author (The Last Empress), uncovers the fascinating story of the early 19th-century queen of Madagascar, Ranavalona, who seized power after her husband's death and ruled ruthlessly but effectively for 33 years. Unfortunately, much of it reads like a European's shocked appraisal of native culture rather than the analysis of an anthropologist. The author seems trapped by his title—derived from a European commentator—and, obliged to prove his subject unusually bloodthirsty, he emphasizes the queen's oppression of Christians and trials by ordeal rather than fleshing out the tantalizing glimpses of native religions, social structures and matrilineal royal descent that kept her in power. His most sympathetic characters are a few extraordinary Europeans who lived in or visited Madagascar during her reign. Laidler briefly asserts that Ranavalona actually descended into insanity, but nowhere does he seriously address the issue or give evidence beyond the violence of her tenure. In fact, the narrative suggests that her plans were effective rather than mad: after her death, a series of somewhat less violent and more open-minded rulers gave way under foreign imperial pressures and Madagascar became a French colony. B&w illus., map. (Dec.) (Publishers Weekly, October 24, 2005)