Feminism Confronts Technology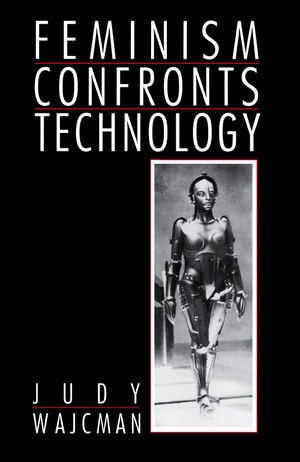 Feminism Confronts Technology
ISBN: 978-0-745-65662-5 May 2013 Polity 194 Pages
Description
Feminism Confronts Technology provides a lively and engaging exploration of the impact of technology on women's lives from word processors to food processors, and genetic engineering to the design of cities. Comprehensive and critical, this book surveys the sociological and feminist literature on technology, highlighting the male bias in the way technology is defined as well as developed. Wajcman sets the scene with an overview of feminist theories of science and technology: encompassing the technologies of production and reproduction as well as domestic technology.

The author challenges the common assumption that technology is gender neutral, looking at whether technology can liberate women or whether the new technologies are reinforcing sexual divisions in society.
Acknowledgements.
Preface.
1. Feminist Critiques of Science and Technology.
2. The Technology of Production: Making a Job of Gender.
3. Reproductive Technology: Delivered into Men's Hands.
4. Domestic Technology: Labour-saving or Enslaving?.
5. The Built Environment: Women's Place, Gendered Space.
6. Technology as Masculine Culture.
Conclusion.
Notes.
Bibliography.
Index.
'The comprehensive and accessible nature of the book makes it particularly suitable as a textbook in this growing field.'
Donald Mackenzie, Department of Sociology, University of Edinburgh
'A useful and accessible contribution to current debates about the connections between gender, technology and society.' New Technology, Work and Employment
'This book will be of considerable interest to anyone working in scientific and technical institutions facing difficulties, whether crises in funding or in communication between science and government, science and industry, science and the public.' The New Scientist
'A most welcome work that addresses precisely this issue of how gender can be registered as significant in the making of technologies... It is a text that will, hopefully, be widely read by undergraduate students.' Social Studies of Science
'Feminism Confronts Technology brings together an impressive array of feminist work on technology.' Arena Magazine
'Wajcman's book fills an important gap in the 'gender and technology' literature.' Feminist Review
* This is the first work of its kind, with previous literature taking the fo rm of edited volumes.
* Essential reading for students and researchers of womens' studies.
* Judy Wajcman is an influential feminist writer particularly on sociological concerns.