Feminism and Philosophy: Perspectives on Difference and Equality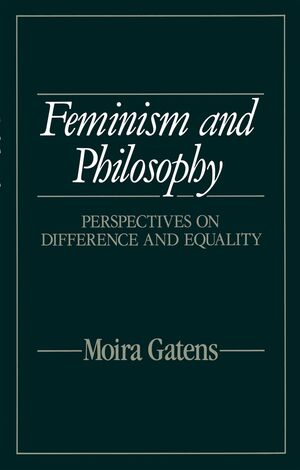 Feminism and Philosophy: Perspectives on Difference and Equality
ISBN: 978-0-745-60470-1 August 1991 Polity 168 Pages
Description
This extremely accessible textbook provides a wide-ranging analysis of the relations between philosophy and feminist thought. Examining not only feminist critiques of philosophical ideas, Gatens also looks at the ways in which feminist theory can be informed by philosophical analysis and debates.
Gatens adopts an historical approach, beginning with an analysis of Mary Wollstonecraft's critique of Rousseau. She then examines attempts by Harriet Taylor and J. S. Mill to extend liberal principles to women's situation. Other chapters discuss the work of more recent philosophers, including Simone de Beauvoir, Luce Irigaray, Mary Daly and Dale Spender. Gatens concludes with a discussion of current debates in the politics of sexual difference.
Table of contents
Acknowledgement.
Introduction.
1. But for Her Sex, a Woman is a Man.
2. What the Human Species May be Made.
3. Woman as the Other.
4. Language, Facts and Values.
5. The Feminist Critique of Philosophy.
6. Psychoanalysis and French Feminism.
7. Sexual Difference or Sexual Equality?.
Conclusion.
Notes.
Reviews
'Gatens charts a meticulous course through the minefield of feminist interrogations of and investments in the history of philosophy ... A very rich text.'
Elizabeth Grosz, University of Sydney
'A challenging assessment of the relations between feminism and philosophy and some welcome clarification of what is at stake in the differences between Anglo-American and French approaches to feminist theory ... Lucidly and engagingly written.' Genevieve Lloyd, University of New South Wales
'As a textbook for student reading lists, Gatens' book will be valuable and accessible.' Journal of Gender Studies
'Gaten's thesis is persuasively argued and the book provides and economical and readable resume of the major contributions to feminist theory from the seventeenth century to the late 1980s. It will be a constructive addition to philosophy and theory reading lists.' Political Studies
'So clearly written that it can confidently be recommended to students with no previous background in either philosophy or feminism. Highly recommended to women philosophers, and should be compulsory reading for all men philosophers." The Philosophical Quarterly
'This book will make an excellent textbook for courses in philosophy of feminism. Feminism and Philosophy has a vivid, powerful style, a keen choice of subject matter and an ability to make difficult ideas accessible.' Australisian Journal of Philosophy
Features
* This book is a comprehensive, introductory textbook on the authors and issues which are central to current debates in feminism and philosophy.
* It is unique in that it argues the importance of feminist debate for political and social theorists as well as for feminist concerns.
* Provides an excellent teaching aid and would also be useful for interdisciplinary courses.