Feminism and Psychoanalysis: A Critical Dictionary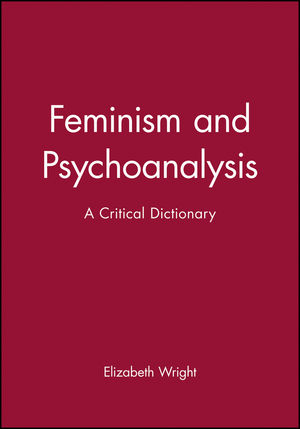 Feminism and Psychoanalysis: A Critical Dictionary
ISBN: 978-0-631-18347-1
Nov 1992, Wiley-Blackwell
504 pages
Description
Feminism and Psychoanalysis: A Critical Dictionary is of major interest to those who are aware of the breadth of its two component areas, and wish to explore the common ground between them more intensively.
Entries deal with concepts from and significant figures in psychoanalysis, issues of sexual politics that intersect with psychoanalysis, feminist aesthetics and criticism which both use and challenge psychoanalytic thought. Each entry concludes with a short, carefully selected list of further reading.
Introduction.
Dictionary Entries A-Z.
Index.
"Not only a work of reference, but an indispensable guide to the territory of feminist argument."
Parveen Adams, Brunel University
"The entries are written by many of the best writers in the field; the bibliographies are invaluable ... Does an excellent job naming and covering the variety of issues at stake." Jane Gallop, University of Wisconsin at Milwaukee
"Impeccably researched, as well as lucidly written." Madelon Sprengnether, University of Minnesota
"This Dictionary will be an essential resource for anyone undertaking research in the area of 'feminism and psychoanalysis'." Morag Shiach, British Journal of Psychotherapy
* Charts the intersection of feminism and psychoanalysis via a number of domains which establish crucial themes and allow theory and practice to work upon each other.
* Questions the role of psychoanalysis in enabling women to challenge the forms of representation that constrain and oppress them.
* Introduces the key literature in feminism and psychoanalysis.