Feminisms and Internationalism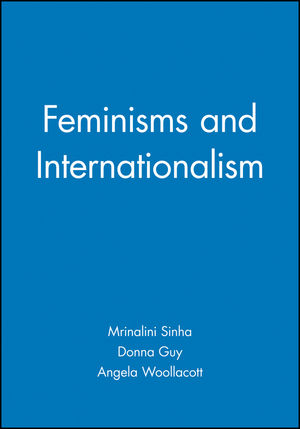 Feminisms and Internationalism
ISBN: 978-0-631-20919-5
Aug 1999
280 pages
Description
This book addresses the theme of the history of internationalism in feminist theory and praxis, covering such topics as the historical concept of internationalism within feminism and women's movements; the nature of historical shifts within feminist movements, and challenges to internationalism within feminism by women of colour and by women from colonised or formerly colonised countries.
Part I: Abstracts:
.
1. Introduction:.
Why Feminisms and Internationalism?: Mrinalini Sinha, Donna Guy and Angela Woollacott (Southern Illinois University, University of Arizona and Case Western Reserve University).
Part II: Articles:.
2. An Alternative Imperialism: Isabella Tod, Internationalist and "Good Liberal Unionist": Heloise Brown (University of York).
3. 'The New Women's Movement' in 1920's Korea: Rethinking the Relationship Between Imperialism and Women: Insook Kwon (Clark University, Worcester).
4. Madrinas and Missionaries: Uruguay and the Pan-American Women's Movement: Christine Ehrick (University of North Iowa).
5. Inventing Commonwealth and Pan-Pacific Feminisms: Australian Women's Internationalist Activism in the 1920s-30s: Angela Woollacott (Case Western Reserve University).
6. The Politics of Pan American Cooperation: Maternalist Feminism and the Child Rights Movement, 1913-1960: Donna J. Guy (University of Arizona).
7. Wong Jui Guie - Connecting the Tracks: Chinese Women's Activism Surrounding the 1995 World Conference on Women in Beijing: Ping-Chun Hsiung and Yuk-Lin Renita (University of Toronto).
8. Unifying Women: Feminist Pasts and Presents in Yemen: Margot Badran (University of Chicago).
Part III: Forum:.
9. International Feminisms: Latin American Alternatives: Asuncion Lavrin (Arizona State University).
Part IV: Forum Respondents:.
10. Feminisms and Internationalism: A View from the Centre: Leila J. Rupp (Ohio State University).
11. Feminisms and Internationalism: A Response from India: Mary E. John (Centre for Women's Development Studies, New Delhi).
12. Feminist Representations: Interogating Religious Difference: Shahnaz Rouse (Sarah Lawrence College, New York).
13. Borderland Feminisms: Towards The Transgression of Unitary Transnational Feminisms: Jayne O. Ifekqunigwe (University of East London).
Part V: Review Essays:.
14.Some Trajectories of 'Feminism' and 'Imperialism': Antoinette Burton (John Hopkins University).
15. Feminisms and Transnationalism: Francesca Miller (University of California at Davis).
16. Feminisms and International Relations: V. Spike Peterson (University of Arizona).
17. Feminisms and Development: Valentine M. Moghadam (Illinois State University).
Notes on Contributors.
Index.
*This is the first collection to illustrate the historical range of feminist internationalisms from the late 19th to the late 20th centuries.
*Reveals the diversity of feminist connections.
*Goes beyond the dominant Euro-American international women's organisations.
*Includes organisations and individual feminists from different parts of the world.
*Shows that internationalism in the past can inform current understandings and activism.