Feng Shui For Dummies, 2nd Edition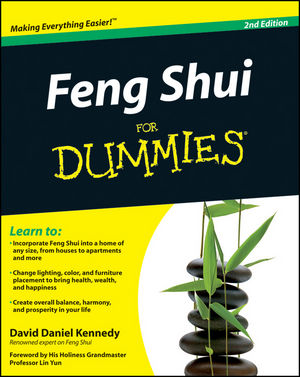 Feng Shui For Dummies, 2nd Edition
ISBN: 978-0-470-88585-7
Nov 2010
432 pages
Description
Benefit from the ancient Chinese art of Feng Shui
Take a look around you. What do you see? Whether or not you're aware of it, your environment profoundly affects your health, wealth, family life, relationship, and yes, even your destiny.
Feng Shui (pronounced fung shway), which means wind water, is the ancient Chinese study of harmony and energy flow between you and your physical surroundings. Now, Feng Shui For Dummies, 2nd Edition shows you how you can apply Feng Shui principles to your home (inside and out) and workplace (from window office to cubicle) in order to achieve a better life.
Principles are explained in an easy-to-understand language
Practical tips show you how to incorporate the traditions of Feng Shui to your everyday life
Before-and-after illustrations and full-color photos of real-life Feng Shui makeovers in an all-new 8-page color insert
Free of technical jargon and brimming with practical tips and advice, Feng Shui For Dummies shows you how to feel and access the energy of your environment and create harmony and happiness in your life.
Introduction.
Part I: Getting Started: Feng Shui Made Clear.
Chapter 1: Discovering the World of Feng Shui.
Chapter 2: Mastering the Principles of Feng Shui.
Chapter 3: Unveiling the Secrets of the Octagon.
Chapter 4: Picking Up Your Feng Shui Tools.
Chapter 5: Harnessing the Energies of the Five Elements.
Chapter 6: Tapping the Inner Power of Feng Shui.
Part II: Energizing Your Home's Exterior.
Chapter 7: Harnessing Nature's Power to Enhance Your Outdoor Spaces.
Chapter 8: Making the Most of Your Lot and Home Shape.
Chapter 9: Open Sesame! Creating a Welcoming Entry.
Part III: Feathering the Nest: Nurturing and Nourishing Indoor Spaces.
Chapter 10: Reinventing Your Home's Layout.
Chapter 11: Maximizing Results in the Bedroom.
Chapter 12: Now You're Cookin': Feng Shui for Your Kitchen.
Chapter 13: Home Is Where the ""Shui"" Is: Enhancing Your Family Areas.
Chapter 14: Sprucing Up the Bits and Pieces.
Chapter 15: Power-Boosting Your Home's Energy.
Chapter 16: Improving Your Apartment with Feng Shui.
Chapter 17: Using Feng Shui in Your Offi ce to Enhance Your Career.
Part IV: Going to the Next Level: Using Feng Shui for Life Change.
Chapter 18: Hitting the Ground Running: Your Fabulous Feng Shui Action Plan.
Chapter 19: Taking Care of the Big Three: Your Money, Honey, and Health.
Chapter 20: Looking Before You Leap: Selecting Your Next Home with Feng Shui.
Chapter 21: Creating New Energy with Feng Shui Blessing Ceremonies.
Chapter 22: Unleashing the Genie: Personal Feng Shui Empowerment.
Part V: The Part of Tens.
Chapter 23: Ten Principles for Success with Your Feng Shui.
Chapter 24: Ten Tips for Finding the Right Consultant and Sticking with the Plan.
Chapter 25: Ten Tips for Selling a Home with the Help of Feng Shui.
Chapter 26: Ten Unique Calligraphies to Bless Your Life.
Appendix: Feng Shui Resources.
Index.