Fertility and Infertility For Dummies, UK Edition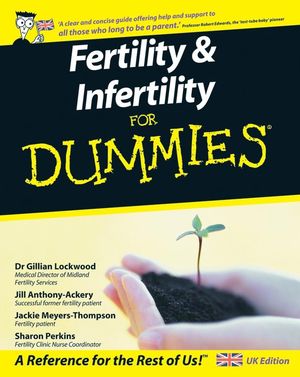 Fertility and Infertility For Dummies, UK Edition
ISBN: 978-1-119-99806-8
Feb 2011
384 pages
Description
This friendly guide combines professional and personal advice on every aspect of fertility and infertility. From deciding when to seek help and what help to seek, to the emotional, fi nancial, and medical considerations of fertility treatments, you'll be reassured every step of the way with all the support and specialist advice you need to increase your chances of a healthy and happy pregnancy.
Introduction.
Part I: Making Babies as Nature Intended.
Chapter 1: In the Beginning.
Chapter 2: Taking Baby Steps.
Part II: Planning a Pregnancy.
Chapter 3: We're Trying! We're Trying! (to Get Pregnant).
Chapter 4: You, Your Fertility, and Your GP.
Chapter 5: Great Expectations . . . But: Early Pregnancy Loss.
Part III: Tests and Investigations.
Chapter 6: Moving on Up: Seeing a Specialist.
Chapter 7: Finding the Female Problem: Testing, Testing, 1, 2, 3.
Chapter 8: It's a Man Thing: When Tests Reveal Sperm Problems.
Part IV: Eureka! Possible Solutions.
Chapter 9: Doing Your Homework: Researching Fertility Clinics and Funding Treatment.
Chapter 10: All The 'I's: Introducing IUI, IVF, and ICSI.
Chapter 11: Giving Mother Nature a Helping Hand: Intrauterine Insemination (IUI).
Chapter 12: Making Test-Tube Babies: IVF.
Chapter 13: ICSI: It Only Takes One Good Sperm!
Chapter 14: 'Babies on Ice': Egg Freezing and Fertility Treatment.
Chapter 15: Giving, Receiving, and Sharing: Egg Donor Treatments.
Chapter 16: Creating an Embryo: Amazing Teamwork in the Lab.
Part V: Post-First Cycle: How You May Feel and What You Can Do.
Chapter 17: Waiting and Hoping: Surviving the Two-Week Wait after Embryo Transfer.
Chapter 18: What's in Your Freezer? Frozen Embryo Transfers.
Chapter 19: If at First You Don't Succeed: Trying IVF More than Once.
Part VI: Different Strokes for Different Folks: Options for Non-Traditional Families.
Chapter 20: Third-Party Reproduction: You and You and Me and Baby Make . . . Four!
Chapter 21: Safe Options for Same-Sex Couples and Single Mums.
Chapter 22: Ready-Made Families and Other Choices.
Chapter 23: New Advances and Ethical Dilemmas.
Part VII: The Part of Tens.
Chapter 24: Ten Tips to Get You Through Treatment (and Keep You Sane!)
Chapter 25: Ten (Okay, Seven) Groups of Fertility Medications and Where to Find Them.
Index.
""a complete guide to getting pregnant"" (
Walsall Chronicle
, Thursday 14th June 2007)
""…combines the views of both patients and professionals, in order to give clear and concise advice."" (Ledbury Reporter, Friday 15th June 2007)
"The book combines their professional and patient perspectives to give expert, clear and concise advice to anybody planning a baby." (Hereford Journal, Wednesday 20th June 2007)