Festival and Special Event Management, 5th Edition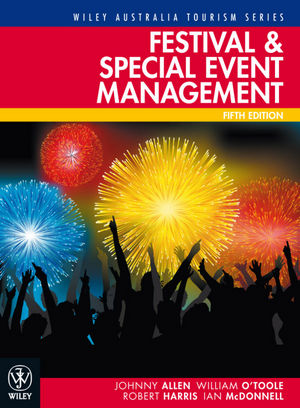 Festival and Special Event Management, 5th Edition
ISBN: 978-1-742-16461-8
Nov 2010
606 pages
Description
Festival and Special Event Management, 5th edition continues the comprehensive overview of the theory and procedures associated with festivals and special events established in previous editions. The new edition of this market-leading text introduces developments and professional tools, and considers the globalisation and subsequent internationalisation of event management.



The role of marketing and communication, environmental planning, the increasing role of governments through the creation of event strategies, and the different perspectives of event management are all discussed. This edition aims to embrace and extend the growing body of knowledge relating to event management by tracking many of the recent changes and developments in the field. This offers students a current, relevant textbook for their study and professional reference.
Preface.
Acknowledgements.
Examples at a glance.
PART 1: EVENT CONTEXT.
Chapter 1 An overview of the event field.
Chapter 2 Perspectives on events.
Chapter 3 Event impacts and legacies.
PART 2 PLANNING.
Chapter 4 The strategic planning function.
Chapter 5 Conceptualising the event.
Chapter 6 Project management for events.
Chapter 7 Financial management and events.
Chapter 8 Human resource management and events.
Chapter 9 Marketing planning for events.
Chapter 10  Promotion: integrated marketing communication for events.
Chapter 11  Sponsorship of special events.
Chapter 12  Sustainable event management.
Chapter 13  Event tourism planning.
PART 3 EVENT OPERATIONS AND EVALUATION.
Chapter 14  Staging events.
Chapter 15  Logistics.
Chapter 16  Event evaluation and research.
PART 4 LEGAL, RISK AND OHS MANAGEMENT AND EVALUATION.
Chapter 17  Legal issues of event management.
Chapter 18  Risk management.
Index.
75% new and updated Event Profiles
90% new Case Studies
Expanded coverage of event sponsorship and its role in event creation, sustainability, and environmental planning
Expanded coverage of risk management to include political and terrorist risks and OH&S
Statistics and examples have been updated
Trends and Issues have been integrated throughout
End-of-chapter questions have been revised and updated with new questions to reflect new content.
End-of-chapter case studies profile staged events to illustrate various concepts
Event profile vignettes feature the diversity of events, the individuals who work within the industry and the process of formulating and organising an event.