Fictions of Business: Insights on Management from Great Literature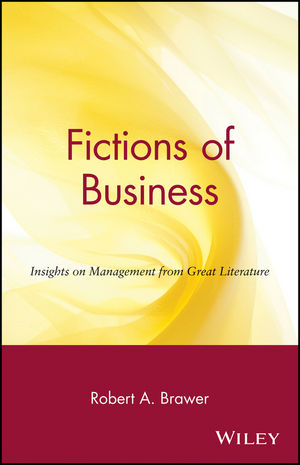 Fictions of Business: Insights on Management from Great Literature
ISBN: 978-0-471-37168-7 February 2000 248 Pages
Description
Find out what Joseph Conrad, Arthur Miller, Geoffrey Chaucer, and Mark Twain can tell you about being a more effective manager.

Looking for business insights? Forget the Wall Street Journal. You can learn a lesson or two from Arthur Miller and David Mamet. Put down Forbes and Fortune for once and spend an evening with Chaucer and George Bernard Shaw. Not only will you enjoy yourself, you're also likely to discover some fresh management perspectives and ideas!

Written by a former CEO of a global corporation who has also been an English literature professor, this provocative new business book proves that great novels and plays are a rich, untapped resource for businesspeople looking for solutions to problems they confront on the job. Robert A. Brawer digs deeply into fictions by literary legends such as Mark Twain, Joseph Conrad, Theodore Dreiser, Sinclair Lewis, and Joseph Heller to unearth vital lessons that managers can readily apply to the real world of work. From tips on resolving office conflicts in James Thurber's "The Catbird Seat" to pointers on gaining client confidence found in Chaucer's Canterbury Tales, Brawer finds nuggets of business wisdom in places where most businesspeople never think of looking.

Focusing mainly on fiction that explores business themes, Brawer uses Heller's Something Happened and Shaw's Major Barbara to illustrate the dangers of allowing excessive faith in corporate hype to impair a manager's ability to accurately assess serious problems. From Mamet's Glengarry Glen Ross and Dreiser's Sister Carrie, he infers important lessons about the art of salesmanship. He explores the problems of alienation and maintaining personal integrity in a corporate world through a close reading of Arthur Miller's Death of a Salesman and Sloan Wilson's The Man in the Grey Flannel Suit. And out of his analysis of Upton Sinclair's The Jungle and John Dos Passos's The Big Money, among other major nineteenth- and twentieth-century works, Brawer develops an inspiring discourse on self-interest and efficiency versus ethical responsibility and compassion in a Darwinian business world.

As instructive as it is entertaining, Fictions of Business shows you how to take advantage of great novels and plays in solving the human problems of management.

Praise for Fictions of Business

"What a fabulous concept: the bringing together of great literature and management theory. This is a business book that challenges the intellect and goes about unveiling the basic principles of management in a way that forces you to think about what you know in a completely different way. It's a business book that stays with you long after you've read it." -Shelly Lazarus, Chairman and CEO, Ogilvy & Mather

"A truly refreshing contribution to the multitude of books on corporate management. Brawer has cleverly crafted a set of essays that are both inspirational and practical." -Robert A. Kavesh, Professor of Finance and Economics, Leonard N. Stern School of Business, New York University.

"Robert Brawer is both a successful entrepreneur and a distinguished literary scholar, and his book, Fictions of Business, is wise about both trade and fiction. Brawer writes with ironic wit and sharp observation about the culture of the corporation and the workplace." -Martin Peretz, Editor-in-Chief, The New Republic and Professor of Social Studies, Harvard University.

"Brawer's message is clear and true: good literature enriches business leaders, making them more productive in their careers." -Richard D. Franke, former Chairman and CEO, John Nuveen Company.

"Although commerce and literary analysis might seem worlds apart, Robert Brawer's book brilliantly weaves together fictional characters with larger-than-life figures from the corporate world. In Brawer's compelling narrative, literature offers striking models for good corporate practice." -Philip Gossett, Dean of Humanities, University of Chicago.
Selling as Theater: The Art of Dazzling the Customer.

Selling on a Grand Scale: Playing to an Image-Conscious Society.

Maintaining Individuality in Corporate Life.

Overcoming Corporate Gospel and the Will to Believe.

Survival of the Fittest in a Darwinian Business World.

Office Politics, Stress Management, and Chaos.

Conclusion: The More Things Change...

Notes.

A Working Man and Woman's Guide to Further Reading.

Acknowledgments.

Index.