Field-Flow Fractionation Handbook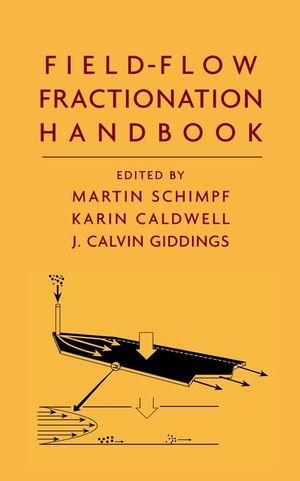 Field-Flow Fractionation Handbook
ISBN: 978-0-471-18430-0 August 2000 616 Pages
Description
Field flow fractionation (FFF) is an emerging separation technique, which has been proven successful in the analysis of pharmaceuticals, biotechnology products, polymers, soils, and foods, among others. In this book, Martin Schimpf joins forces with Karin Caldwell and J. Calvin Giddings, two of the primary developers of this technique, to bring you the first comprehensive, one-stop reference on the technique.
Table of contents
PRINCIPLES AND THEORY.

The Field-Flow Fractionation Family: Underlying Principles (J. Giddings).

Retention-Normal Mode (M. Schure, et al.).

Band Broadening and Plate Height (J. Davis).

Resolution and Fractionating Power (M. Schimpf).

Steric Field-Flow Fractionation and the Steric Transition (K. Caldwell).

Optimization (M. Schimpf).

Physicochemical Measurements and Distributions from Field-Flow Fractionation (F. Dondi & M. Martin).

Electrical Field-Flow Fractionation (K. Caldwell).

Other Field-Flow Fractionation Techniques (J. Bigelow).

Sample Recovery (S. Ratanathanawongs-Williams & J. Giddings).

APPLICATIONS: INDUSTRIAL AND BIOMEDICAL.

Latexes and Emulsions (B. Barman).

Metal Particles (L. Oppenheimer, et al.).

Miscellaneous Submicrometer-Sized Particles (B. Barman).

Miscellaneous Particles1 m in Diameter (M. Moon).

Lipophilic Polymers (S. Lee).

Synthetic PolymersWater Soluble (M. Benincasa).

Protein Complexes and Lipoproteins (P. Li & M. Hansen).

Cell Separations (A. Lucas, et al.).

APPLICATIONS: ENVIRONMENTAL.

Overview of Environmental Applications (R. Beckett).

Characterization of Humic Substances (R. Beckett & M. Schimpf).

Aquatic Colloids (J. Ranville & R. Beckett).

Investigation of Pollutant-Particle Association (D. Murphy & R. Beckett).

Biological Particles of Environmental Interest (R. Sharma & R. Beckett).

Index.
Reviews
"This is very nicely produced book is the first comprehensive treatment of FFF since Janca's book...it is required reading for all users of FFF...any collection of books on separation sciences would be incomplete without it." (Trends in Analytical Chemistry, Vol. 20, No. 5, 2001)
"The goal of these 34 contributions is to provide a guide for first-time users of FFF by describing the four primary subtechniques, with specific examples and applications for each." (SciTech Book News, Vol. 24, No. 4, December 2000)