Field Guide to Project Management, 2nd Edition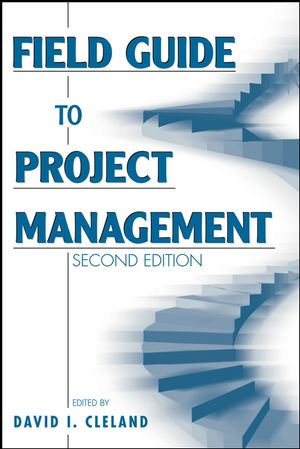 Field Guide to Project Management, 2nd Edition
ISBN: 978-0-471-46212-5
Jul 2004
635 pages
Description
One of the best-known authorities on project management, David Cleland developed this new edition for professionals who need a dependable, on-the-job resource to answer questions and solve problems as they arise. Field Guide to Project Management is unmatched in its wealth of reliable information on project management systems and its concise and accessible format, also making it the perfect volume to read cover to cover for a unique, up-to-date survey of the field. Every aspect of project management is addressed with practical explanations and advice by a who's-who roster of expert authors who cover planning techniques, concepts, paradigms, processes, tools, and techniques.
Buy Both and Save 25%!
Original Price:$215.00
Purchased together:$161.25
save $53.75
Cannot be combined with any other offers.
Acknowledgments.
Preface.
SECTION I: Project Management.
Chapter 1: Strategic Planning (David I. Cleland).
Chapter 2: The Elements of Project Success (Jeffrey K. Pinto).
Chapter 3: Why Project Management? (Carl L. Pritchard).
Chapter 4: Implementing the Project-Management Process (Lewis R. Ireland).
SECTION II: Project Planning Techniques.
Chapter 5: Practical Tools for Project Selection (Christopher A. Chung and Abu Md Huda).
Chapter 6: A Comprehensive Model of Project Management (John R. Adams and Miguel E. Caldentey).
Chapter 7: Another Look at Life Cycles (Thomas C. Belanger and Jim Highsmith).
Chapter 8: Putting Together a Work-Breakdown Structure (Paul Warner and Paul Cassar).
Chapter 9: Tools to Achieve On-Time Performance (J. Davidson Frame).
Chapter 10: Keeping the Lid on Project Costs (Kim LaScola Needy and Kimberly L. Sarnowski).
Chapter 11: Calculating Costs and Keeping Records for Project Contracts (James J. O'Brien).
Chapter 12: Developing Winning Proposals (Hans J. Thamhain).
Chapter 13: Techniques for Managing Project Risk (Guy M. Merritt and Preston G. Smith).
Chapter 14: Building the Foundation for Project Success—The Statement of Work (Michael G. Martin).
SECTION III: Project Leadership.
Chapter 15: The Tasks of Project Leadership (Timothy J. Kloppenborg, Arthur Shriberg, and Jayashree Venkatraman).
Chapter 16: Making Optimal Use of the Matrix Organization (Charles J. Teplitz).
Chapter 17: How to Motivate All Stakeholders to Work Together (R. Max Wideman).
Chapter 18: Political Strategies for Projects and Project Managers (Bud Baker).
Chapter 19: The Role of Senior Management on Projects (Kenneth O. Hartley).
Chapter 20: Building a High-Performance Project Team (Warren Opfer).
Chapter 21: Motivation in the Project Environment (Robert J. Yourzak).
Chapter 22: How to Get the Right Message Across (Francis M. Webster, Jr. and Stephen D. Owens).
Chapter 23: Negotiating Skills for Project Managers (Stephen D. Owens and Francis M. Webster, Jr.).
Chapter 24: Integrating Project-Management Skills for the Future (Elvin Isgrig).
SECTION IV: Project Oversight.
Chapter 25: How to Monitor and Evaluate Projects (James R. Snyder).
Chapter 26: Project-Management Software: A Guideline for System Selection and Use (Bopaya Bidanda and David Hackworth).
Chapter 27: Effective Project-Management Information Systems (Frank T. Anbari).
Chapter 28: Total Customer Satisfaction (Lewis R. Ireland).
Chapter 29: Project Evaluation at Lucent Technologies (Daniel P. Ono).
Chapter 30: Project Termination: The Good, the Bad, and the Ugly (Carl L. Pritchard).
Chapter 31: Implementing Earned-Value Project Management in Ten Easy Steps (Quentin W. Fleming and Joel M. Koppelman).
Chapter 32: Legal Considerations for Project Managers (Randall L. Speck).
SECTION V Team Management.
Chapter 33: New Ways to Use Project Teams (David I. Cleland).
Chapter 34: Energizing Project Teams (Gwenn C. Carr, Gary L. Englehardt, and John Tuman, Jr.).
Chapter 35: Concurrent Product-Development Teams (Preston G. Smith).
Chapter 36: Self-Managed Production Teams (Karen M. Bursic).
Index.