Field Hydrogeology, 3rd Edition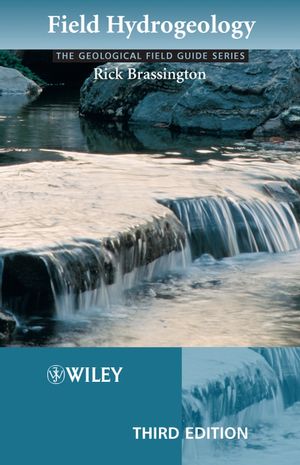 Field Hydrogeology, 3rd Edition
ISBN: 978-0-470-05703-2 June 2007 276 Pages
Description
The successful investigation of the hydrogeology of an area depends on the collection of reliable field data. Field Hydrogeology, Third Edition follows a systematic approach to completing a hydrogeological study and explains how to decide on the measurements that are needed and on the instruments and techniques required. Measurements that are needed and on the instruments and techniques required. Measurements of groundwater levels, rainfall and evaporation spring and stream flows and the use of ground water tracer techniques are covered. There is a great deal of practical information on all aspects of planning and completion of field investigation and on the interpretation of field investigation and on the interpretation of field evidence. Advice on safety is also included.

This third edition has been fully revised and updated to bring the book into line with developments in environmental regulations. The order of the chapters reflects the structure of a hydrogeological project and the development of a conceptual model up to completion of a report. The focus is on current practical applications of hydrogeological investigations using new case histories and a new chapter on specialist techniques has been included.
Handy pocket-size for field research

Features case histories

Focuses on practical applications

Contains a new chapter on groundwater investigations
Field Hydrogeology, Third Edition is an invaluable resource for undergraduate and postgraduate students of geology, hydrogeology, environmental sciences and engineering, as well as a wide range of professionals working in the water resources and environmental protection fields.
Preface.
Acknowledgments.
1 Introduction.
1.1 Groundwater systems.
1.2 Conceptual model.
1.3 Hydrogeological report writing.
2 Desk Study.
2.1 Defining the area.
2.2 Identifying the aquifers.
2.3 Groundwater levels.
2.4 Surface water.
2.5 Recharge.
2.6 Groundwater use.
2.7 Groundwater chemistry.
2.8 Aerial photographs and satellite imagery.
2.9 Planning a fieldwork programme.
3 Field Evaluation of Aquifers.
3.1 Grain size analysis.
3.2 Hydraulic properties of aquifers.
3.3 Hydraulic properties and rock types.
3.4 Assessing hydraulic properties.
3.5 Using hydraulic property information.
4 Groundwater Levels.
4.1 Water-level dippers.
4.2 Continuous water-level recorders.
4.3 Measuring ground levels and locations.
4.4 Tool-box.
4.5 Well catalogue.
4.6 Field surveys for wells, boreholes and springs.
4.7 Interpretation of abstraction borehole water levels.
4.8 Groundwater level monitoring networks.
4.9 Groundwater level fluctuations.
4.10 Managing groundwater level data.
4.11 Constructing groundwater contour maps and flow nets.
4.12 Interpretation of contour maps and flow nets.
4.13 Using other groundwater information.
5 Rainfall, Springs and Streams.
5.1 Precipitation.
5.2 Evaporation.
5.3 Springs.
5.4 Stream-flow measurement.
5.5 Stage–discharge relationships.
5.6 Choosing the best method.
5.7 Processing flow data.
6 Pumping Tests.
6.1 What is a pumping test?
6.2 Planning a pumping test.
6.3 Pumps and pumping.
6.4 On-site measurements.
6.5 Pre-test monitoring.
6.6 Test set-up.
6.7 Step tests.
6.8 Constant rate tests.
6.9 Recovery tests.
6.10 Pumping test analysis.
6.11 Tests on single boreholes.
6.12 Packer tests.
7 Groundwater Chemistry.
7.1 Analytical suites and determinands.
7.2 Sampling equipment.
7.3 Sampling protocols.
7.4 Monitoring networks.
7.5 Using chemical data.
8 Recharge Estimation.
8.1 Water balance.
8.2 Rainfall recharge.
8.3 Induced recharge.
8.4 Other sources of recharge.
9 Specialist Techniques.
9.1 Borehole and piezometer installation.
9.2 Down-hole geophysics.
9.3 Using artificial tracers.
10 Practical Applications.
10.1 Developing a conceptual model.
10.2 Groundwater supplies.
10.3 Contamination investigations.
10.4 Groundwater lowering.
10.5 Rising water tables.
10.6 Investigating wetland hydrology.
10.7 Groundwater modelling.
Appendix I Good working practice.
Appendix II Conversion factors.
References.
Index.
A completely revised and restyled edition of this book as part of the Geological Field Guide series.
"I strongly recommend reading this book from cover to cover next time you have a long train or plane journey." (Geoscientist, March 2008)
New pocket-sized format for ease of use in the field

New series style and layout

Updated and revised with new case histories and a new chapter on groundwater investigations