Fifty Years in Wall Street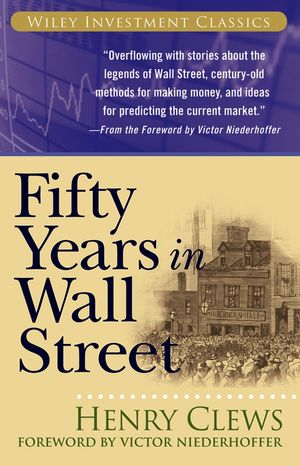 Fifty Years in Wall Street
ISBN: 978-0-471-78519-4
May 2006
360 pages
Description
The definitive look at Wall Street in the 19th Century
Perhaps the 19th century's best book on Wall Street, Fifty Years in Wall Street provides a fascinating look at the financial markets during a period of rapid economic expansion. Henry Clews was a giant figure in finance at that time, and his firsthand account brings this colorful era to life like never before. He reveals shocking stories of political and economic manipulation and how he helped bring down the mighty Boss Tweed. He writes eloquently about the madness of the markets and how the era's greatest speculators amassed their fortunes. This book provides an expansive view of Wall Street in an era of little regulation, rampant political corruption, and rapid financial change.
Henry Clews was born in England in 1836 and emigrated to the United States in 1850. In 1859, he cofounded what became the second largest marketer of federal bonds during the Civil War. Later, he organized the "Committee of 70," which deposed the corrupt Tweed Ring in New York City, and served as an economic consultant to President Ulysses Grant.
Publisher's Note.
Foreword by Victor Niederhoffer.
To My Readers.
Chapter 1: My Debut in Wall Street.
Chapter 2: How to Make Money in Wall Street.
Chapter 3: Causes of Loss in Speculation.
Chapter 4: Wall Street During the War.
Chapter 5: My Part in Marketing the United States Civil War Loans.
Chapter 6: Secretary Chase and the Treasury.
Chapter 7: "Corners" and Their Effect on Values.
Chapter 8: The Commodore's "Corners".
Chapter 9: Drew and the Erie "Corners"
Chapter 10: Panics—Their Causes—How Far Preventable.
Chapter 11: Old Time Panics.
Chapter 12: The True Story of Black Friday Told for the First Time.
Chapter 13: Our Great American Panics from First to Last.
Chapter 14: Booms in Wall Street.
Chapter 15: Wall Street's Wild Speculation, 1900–1904.
Chapter 16: The Ups and Downs of Wall Street.
Chapter 17: Grant's Second Term.
Chapter 18: The Tweed Ring, and the Committee of Seventy.
Chapter 19: Daniel Drew.
Chapter 20: Interesting Episodes in Drew's Life.
Chapter 21: William H. Vanderbilt.
Chapter 22: "Young Corneel".
Chapter 23: Drew and Vanderbilt.
Chapter 24: Jay Gould.
Chapter 25: Keene's Career.
Chapter 26: Villard and his Speculations.
Chapter 27: Ferdinand Ward.
Chapter 28: Henry N. Smith.
Chapter 29: Charles F. Woerishoffer.
Chapter 30: Why I Am an American.