Fight Foreclosure!: How to Cope with a Mortgage You Can't Pay, Negotiate with Your Bank, and Save Your Home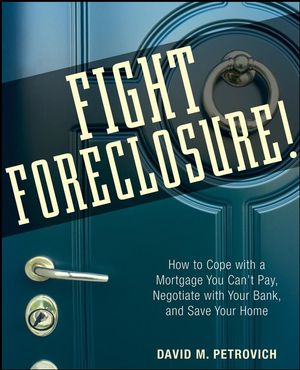 Fight Foreclosure!: How to Cope with a Mortgage You Can't Pay, Negotiate with Your Bank, and Save Your Home
ISBN: 978-0-470-26764-6 March 2008 256 Pages
Description
Fight Foreclosure! offers a practical, step-by-step system for taking action to prevent foreclosure on your home before it?s too late. If you?re having trouble keeping up with your payments, the worst thing you can do is nothing. This book explores all your options, weighs the pros and cons of each, and explains the pre-foreclosure process in detail. Plus, it points out the too-good-to-be-true credit repair offers you should avoid and gives you real, practical alternatives that help you help yourself before it?s too late.
Table of contents
Acknowledgments.
Introduction. You Are Not Alone! America in Foreclosure.
Chapter 1: Don't Ignore the Warning Signs: How to Get Past Denial, Deal with the Stress and Embarrassment, and Take Action to Save Your Home and Family.
Chapter 2: The Foreclosure Time Clock: Why it's Much Better to Act Sooner than Later.
Chapter 3: How to Handle Collection Calls: Why You Should Talk to Your Lender First, What to Say, and What Questions to Ask.
Chapter 4: Too Much Money at the End of the Month: How to Prioritize Your Spending and Where to Cut Expenses.
Chapter 5: Negotiate with your lender to win/win: Walk Away, Sell, or Sacrifice to Save.
Chapter 6: Use the Law to Fight Foreclosure: Legal Defenses.
Chapter 7: Using Bankruptcy to Save Your Home.
Chapter 8: How to Sell to Avoid Foreclosure and Save Your Credit Even if You Owe More Than Your Home is Worth.
Chapter 9: How to Find Legitimate Help and Avoid Foreclosure Rescue Scams.
Chapter 10: Options for Real Estate Investors Facing Foreclosure.
Chapter 11: Life After Foreclosure: What I Learned When it Happened to Me.
Appendix A. Questions and Answers from HUD.
Appendix B. Mortgage Workout Notebook.
Appendix C. Mortgage Forgiveness Debt Relief Act of 2007.
Appendix D. News Release from www.hud.org.
Appendix E. Glossary.
Appendix F. State Foreclosure Procedures Chart.
About the Author.
Index.