Figure Drawing For Dummies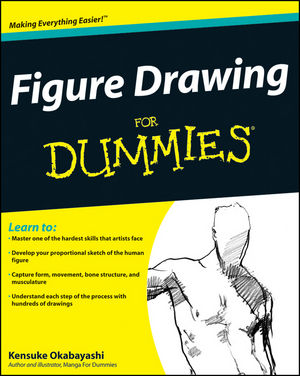 Figure Drawing For Dummies
ISBN: 978-0-470-39073-3 January 2009 384 Pages
Description
Figure Drawing For Dummies appeals to both new art students and veteran artists who find it difficult to proportionally draw the human form. The illustrations and examples in Figure Drawing For Dummies are designed to help readers capture this elusive figure.
Table of contents
Introduction.
Part I: Figure Drawing 101.
Chapter 1: Welcome to the Joys of Figure Drawing.
Chapter 2: Gathering the Goods for Figure Drawing.
Chapter 3: Starting with Figure-Drawing Basics.
Part II: Off to a Head Start.
Chapter 4: Getting Inside the Head.
Chapter 5: Adding Facial Features.
Chapter 6: Going to the Top with Hair.
Chapter 7: Presenting Emotions in Facial Features.
Part III: Building the Body.
Chapter 8: Examining Figure Proportions and Bone Structure.
Chapter 9: Starting Simple with Stick Figures and Mannequins.
Chapter 10: Pumping Up Those Muscles.
Chapter 11: Drawing Figures in Motion.
Part IV: Sharpening Your Figure-Drawing Skills.
Chapter 12: Accessorizing Your Figures.
Chapter 13: Taking Your Work to the Next Level with Advanced Drawing Techniques.
Chapter 14: Working with Composition and Perspective.
Part V: The Part of Tens.
Chapter 15: Ten Places to Study and Draw the Figure.
Chapter 16: Ten Ways to Organize, Store, and Present Your Work.
Index.