Filmmaking For Dummies, 2nd Edition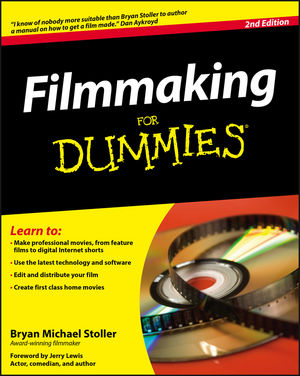 Filmmaking For Dummies, 2nd Edition
ISBN: 978-0-470-44625-6 November 2008 384 Pages
Description
Now updated--the step-by-step secrets to capturing great moments on film
With all the recent advancements in filmmaking technology, more people than ever are trying their hand at filmmaking. Keeping up with the newest information in this booming field, this updated edition of Filmmaking For Dummies features up-to-the-minute coverage of the latest and greatest hardware, software, accessories, and trends--including high-definition technology and new outlets for films such as YouTube and MySpace. It demystifies the nuts-and-bolts of filmmaking, from developing a project and securing financing to hiring a cast and crew, editing, and getting distribution. This new edition also provides new movie examples and updated contacts and resources. Whether people want to become professional filmmakers or simply shoot quality home movies, this practical guide has all the advice and tips needed to succeed.
Table of contents
Foreword.
Introduction.
Part I: Filmmaking and Storytelling.
Chapter 1: So You Want to Be a Filmmaker.
Chapter 2: Genres in General.
Chapter 3: Penning and Pitching a Great Story.
Part II: Gearing Up to Make Your Film.
Chapter 4: Scheduling and Budgeting Your Film.
Chapter 5: Financing Your Film.
Chapter 6: Location, Location, Location.
Chapter 7: Crewing Up: HiringYour Crew.
Chapter 8: Assembling Your Cast of Characters.
Chapter 9: Storyboarding Your Film.
Part III: Ready to Roll: Starting Production on Your Film.
Chapter 10: Shooting through the Looking Glass.
Chapter 11: Let There Be Lighting!
Chapter 12: Sound Advice: Production Sound.
Chapter 13: Directing Your Actors: … And Action!
Chapter 14: A Sense of Direction: Directing Your Film.
Part IV: Finishing Your Film in Post.
Chapter 15: Cut to: Editing Your Film Frame by Frame.
Chapter 16: Posting Your Film's Soundtrack: Adding Music & Effects to the Mix.
Chapter 17: Conjuring Up Special Effects.
Chapter 18: Giving Credit and Titles.
Part V: Finding a Distributor for Your Film.
Chapter 19: Distributing Your Film.
Chapter 20: Exploring and Entering Film Festivals.
Part VI: The Part of Tens.
Chapter 21: Ten Tips for Discovering New Talent.
Chapter 22: Ten Ways to Get Publicity for Your Film.
Chapter 23: Ten Ways to Avoid Murphy's Law.
Chapter 24: Ten Best Filmmaking Periodicals.