Final Fantasy and Philosophy: The Ultimate Walkthrough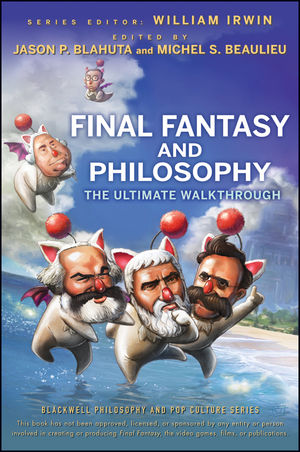 Final Fantasy and Philosophy: The Ultimate Walkthrough
ISBN: 978-0-470-41536-8 October 2009 240 Pages
Description
An unauthorized look behind one of the greatest video game franchises of all time, Final Fantasy

The Final Fantasy universe is packed with compelling characters and incredible storylines. In this book, you'll take a fascinating look at the deeper issues that Final Fantasy forces players to think about while trying to battle their way to the next level, such as: Does Cloud really exist (or should we really care)? Is Kefka really insane? Are Moogles part of a socialist conspiracy? Does the end of the game justify the means?

As Mages, Moogles, fiends, and Kefka are mashed together with the likes of Machiavelli, Marx, Foucault, and Kafka, you'll delve into crucial topics such as madness, nihilism, environmental ethics, Shintoism, the purpose of life, and much more.
Examines the philosophical issues behind one of the world's oldest and most popular video-game series
Offers new perspectives on Final Fantasy characters and themes
Gives you a psychological advantage--or at least a philosophical one--against your Final Fantasy enemies
Allows you to apply the wisdom of centuries of philosophy to any game in the series, including Final Fantasy XIII
Guaranteed to add a new dimension to your understanding of the Final Fantasy universe, this book is the ultimate companion to the ultimate video-game series.
Getting Started: The Alternative.
Instruction Booklet.
PART ONE: BASIC CONTROLS AND UNDERSTANDING YOUR CHARACTERS.
1 The Spiky-Haired Mercenary vs. the French Narrative Theorist: Final Fantasy VII and the Writerly Text (Benjamin Chandler).
2 Kefka, Nietzsche, Foucault: Madness and Nihilism in Final Fantasy VI (Kylie Prymus).
3 Judging the Art of Video Games: Hume and the Standard of Taste (Alex Nuttall).
PART TWO: PLAYING THE GAME—BUT WHAT IF IT'S NOT A GAME?
4 The Lifestream, Mako, and Gaia (Jay Foster).
5 Gaia and Environmental Ethics in The Spirits Within (Jason P. Blahuta).
6 Objectification of Conscious Life Forms in Final Fantasy (Robert Arp and Sarah Fisk).
PART THREE: ABILITIES YOU NEVER KNEW YOU HAD.
7 Final Fantasy and the Purpose of Life (Greg Littmann).
8 The Four Warriors of Light Saved the World, but They Don't Deserve Our Thanks (Nicolas Michaud).
PART FOUR: SIDE QUESTS OF THE ENLIGHTENED.
9 Shinto and Alien Influences in Final Fantasy VII (Jonah Mitropoulos).
10 Kupo for Karl and the Materialist Conception of History (Michel S. Beaulieu).
11 Sin, Otherworldliness, and the Downside to Hope (David Hahn).
PART FIVE: OTHER WAYS TO ENJOY THE GAME SO IT NEVER ENDS.
12 Human, All Too Human: Cloud's Existential Quest for Authenticity (Christopher R. Wood).
13 Is the Fear of Stopping Justified? (Kevin Fitzpatrick).
14 What's in a Name? Cid, Cloud, and How Names Refer (Andrew Russo and Jason Southworth).
CONTRIBUTORS: Party Menu.
INDEX: Game Tips.