Finance After Armageddon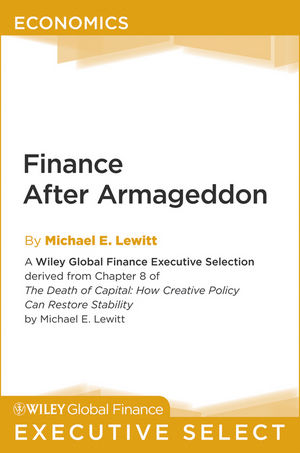 Finance After Armageddon
ISBN: 978-1-118-00651-1
Dec 2010
288 pages
Description
This chapter from The Death of Capital is a call for change that discusses projects and initiatives to rejuvenate the economy and provide a basis for sustained growth. We have developed a regulatory system that does exactly the opposite of what it should be doing-favors speculation over production; obscurity over transparency. This chapter addreses hot-button topics including:
How to Improve Capital Adequacy
Executive Compensation Reform
Modern Monetary Policy and Regulation
Enhancing Financial Transparency
Solutions for Credit Default Swaps, Derivative, and Structured Investment Vehicles
Acknowledgments.
Introduction: The 2008 Crisis – Tragedy or Farce?
Chapter One: The Death of Capital.
Chapter Two: Capital Ideas.
Chapter Three: Empty Promises.
Chapter Four: Financialization.
Chapter Five: From Innovators to Undertakers.
Chapter Six: Welcome to Jurassic Park.
Chapter Seven: The Road to Hell.
Chapter Eight: Finance After Armageddon.
Conclusion: "This Is Later".
Notes.
Bibliography.
About the Author.
Index.