Finance Module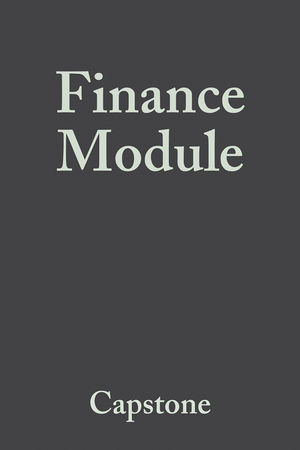 Finance Module
ISBN: 978-1-841-12183-3 July 2002 Capstone 960 Pages
Description
Finance is at the heart of every business and touches all of our working lives in some way or another. This module gives the essential thinking on defining and measuring financial success as well as showing how to interpret and communicate financial matters in a global context, putting the non-financial manager on the right track, while teaching the boardroom a thing or two.
ExpressExec is a unique 12 modular resource of current business practice. Each module contains 10 individual titles that combined cover all the key aspects of business practice globally today.
Written by leading experts in their field and commissioned specifically for ExpressExec the knowledge imparted provides an executive with the tools and skills to increase their contribution to an organisation. Each title gives you the key concepts behind the subject and the techniques to implement the ideas effectively, together with lessons from benchmark companies and ideas from the world's smartest thinkers.
The 10 books in the ExpressExec Finance module are:
1. Finance Express
2. Global Finance
3. E-Finance
4. Investment Appraisal
5. Understanding Accounts
6. Shareholder Value
7. Valuation
8. Strategic Cash Flow Management
9. Mergers and Acquisitions
10. Risk Management
ExpressExec is a perfect learning solution for people who need to master the latest business thinking and practice quickly.
Table of contents
Introduction

What is Global Finance?

Evolution of Global Finance

The E-Dimension

The Global Dimension

The State of the Art

In Practice: Global Success Stories

Key Concepts and Thinkers

Resources

Ten Steps to Making Global Finance Work

Frequently Asked Questions

Index