Financial Accounting, 9th Edition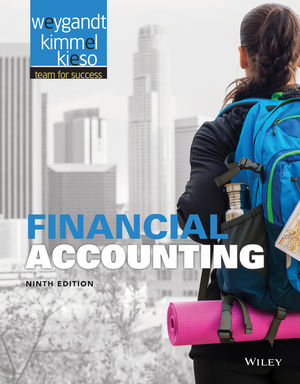 Financial Accounting, 9th Edition
ISBN: 978-1-118-33432-4 November 2013 864 Pages
Description
More students get accounting when using Weygandt's Financial Accounting, 9th Edition because of the unique Framework of Success created and refined by the authors based on years of teaching and course design experience. The Team for Success is focused on helping millennial students get the most out of their accounting courses in the digital age, and on helping instructors deliver the most effective courses whether face-to-face, hybrid, or online with model course plans designed for easy and effective implementation. Financial Accounting, 9th Edition by Weygandt, Kimmel, Kieso provides students with a clear and comprehensive introduction to financial accounting that begins with the building blocks of the accounting cycle. WileyPLUS sold separately from text.
1. Accounting in Action
2. The Recording Process
3. Adjusting the Accounts
4. Completing the Accounting Cycle
5. Accounting for Merchandising Operations  
6. Inventories 
7. Fraud, Internal Control, and Cash
8. Accounting for Receivables
9. Plant Assets, Natural Resources, and Intangible Assets
10. Liabilities
11. Corporations: Organization, stock Transactions, Dividends, and Retained Earnings
12. Investments
13. Statement of Cash Flows
14. Financial Statement Analysis
Appendix A. Specimen Financial Statements: PepsiCo, Inc.
Appendix B. Specimen Financial Statements: The Coca-Cola Company
Appendix C. Specimen Financial Statements: Zetar
Appendix D. Time Value of Money
Appendix E. Payroll Accounting
Appendix F. Subsidiary Ledgers and Special Journals
Appendix G. Other Significant Liabilities
Adaptive Learning: WileyPLUS is equipped with an adaptive learning module called ORION. Based on cognitive science, WileyPLUS with ORION, provides students with a personal, adaptive learning experience so they can build their proficiency on topics and use their study time most effectively. WileyPLUS with ORION helps students learn by learning about them.
Your favorite assessment is now in WileyPLUS:

Continuing Cookie Chronicle Problems
Algorithmic Comprehensive Problems
Broadening Your Perspective Problems
Test Bank problems
General Ledger Software Problems
This latest 9th Edition, was developed with the Millennial student in mind and enables more students to Get It, because they can:
Read It – The All Access Pack includes a mobile E-Text app giving students anytime, anywhere, on any device access to their course materials.
See It – New Accounting Skills Videos Series, and new Math Skills Review Module show students the relevance of accounting and illustrate problem solving skills.
Do It – Orion is a newly integrated adaptive tool in WileyPLUS that help students efficiently master problem solving and prepare for lecture and exams, while new to WileyPLUS assessment.