Financial Accounting, 9th Edition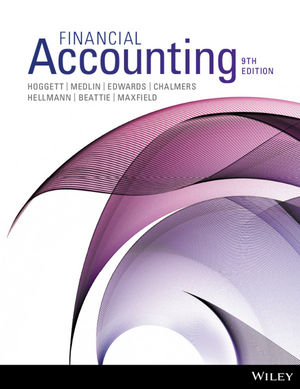 Financial Accounting, 9th Edition
Product not available for purchase
Description
Financial Accounting, 9th Edition continues the strong reputation established by this leading Australian text as the most comprehensive book for students studying introductory accounting in undergraduate or postgraduate programs.
The full-colour design and improved pedagogy provides students with a reader-friendly text to enhance their understanding of concepts and make their study more enjoyable. The text builds on the thorough and reliable explanation of the accounting process through the Business Knowledge chapter vignettes that apply the principles to practice. Previous editions were renowned for the number of exercises and problems, and the new edition builds on this superior teaching feature.
The end-of-chapter activities are designed to encourage student confidence through the development of skills in decision making, critical thinking, ethical thinking, analysis and communication.
Preface xiv
A cknowledgements xvi

Part 1 Accounting for decision making 1

1 Decision making and the role of accounting 2

2 Financial statements for decision making 32

Part 2 Accounting systems and processes 71

3 Recording transactions 72

4 Adjusting the accounts and preparing financial statements 128

5 Completing the accounting cycle — closing and reversing entries 182

6 Accounting for retailing 234

7 Accounting systems 280

Part 3 Equity in business 341

8 Partnerships: formation, operation and reporting 342

9 Companies: formation and operations 376

Part 4 Accounting regulation of assets and liabilities 427

10 Regulation and the Conceptual Framework 428

11 Cash management and control 476

12 Receivables 520

13 Inventories 556

14 Non-current assets: acquisition and depreciation 600

15 Non-current assets: revaluation, disposal and other aspects 636

16 Liabilities 676

Part 5 External reporting and performance evaluation 715

17 Presentation of financial statements 716

18 Statement of cash flows 750

19 Analysis and interpretation of financial statements 828

Appendix Time value of money 872

Glossary 881

Index 892
The major features of this ninth edition include the following:
Material has been extensively rewritten in relation to the new regulatory arrangements for the development of accounting standards globally and in the Australian context.
'Scene Setters' at the beginning of each chapter have been updated to help students understand the relevance of the accounting material in that chapter to the issues faced by accountants in practice.
Additional and new 'Business Knowledge' vignettes in each chapter show the relevance of accounting to the practical world of business.
Learning checks have been added to summarise the key points from the preceding section.
Approximately half of the discussion questions, exercises and problems in many chapters are new.
In the end-of-chapter case material, several decision analysis cases, critical thinking cases, communication and leadership activities and ethics and governance issues are either new or updated. Web-based activities are included in several chapters. In addition, the financial analysis is based on the latest JB Hi-Fi Limited annual report, which is available on its website, www.jbhifi.com.au.
All the exercises and problems are now tagged by learning objective.
The double-page chapter opener displays, at a glance, a 'Scene Setter' presenting issues and topics relevant to the chapter, concepts for review and expected learning outcomes, providing you with a clear outline for each chapter.
The concepts for review identify what you should have learnt before studying the current chapter.
A Scene Setter is presented in each chapter and highlights current accounting and business issues.
Learning objectives lists the key learning outcomes for the chapters and aligns with each main section in the chapter.
Learning checks summarise the key points from the preceding section.
WileyPLUS
is a research-based online environment for effective teaching and learning.
WileyPLUS
is packed with interactive study tools and resources–including the complete online textbook–to give your students more value for their money.