Financial Accounting: A Decision-Making Approach, 2nd Edition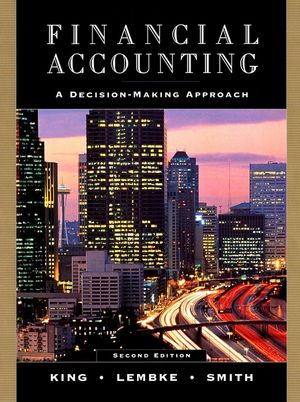 Financial Accounting: A Decision-Making Approach, 2nd Edition
ISBN: 978-0-471-32823-0
Jul 2000
736 pages
Description
For the one-semester undergraduate financial accounting course, this text takes a "user-oriented" approach.
This text was written in response to the recommendations made by the Accounting Education Change Commission (AECC). Developed around a decision making model, students are taught how to understand the financial accounting processes and how to interpret and use the resulting information. Rather than focus on the recording process, the text teaches why particular items appear in or are omitted from financial statements, how items are valued in the financial statements and the usefulness of report information in a decision-making contaxt.
Students will learn how to evaluate current reporting criteria in a decision-making context and be introduced to "what-if" analysis using specific business decisions. THrough the linking pog decisions and information, students will learn how to think and analyze rather than memorize. Recognizing the coverage of the basic recording process is necessary for transactional journal entries will be included in some chapters of the text. Broad concepts will be emphasized and those concepts will be illustrated through extensive use of business situations.
Decision Making and Information
Accounting in a Decision Making Environment
Understanding Cash Flows
Accrual Accounting and Financial Reporting
Understanding Income
Understanding Financial Position
The Accounting Process
Cash, Receivables and Investments
Prepaid Expenses and Inventories
Operating Assets and Intangibles
Reporting Liabilities
Reporting Ownership Interests
The Cash Flow Statement and Decisions
Special Income Reporting Situations
Using Financial Statement Information
Financial Reporting in a Global Economy
Professional four-color design that emphasizes the clear focus and student orientated pedagogy.
Information for Decisions Framework.
Integrated Annual Report Project - a fully integrated case that applies what the students learn about accounting by examining and analyzing the financial statements of a real company. As specific topics are discussed throughout the text students use what they have learned by applying their knowledge to understanding the financial statements of the company they have chosen. Questions at the end of each chapter relating to the company they have chosen provide students with valuable insight into how the accounting principles are applied in practice.
Developed around a new information for decisions framework, students are taught how to understand the financial accounting process and how to interpret and use the resulting information.
The basic recording process is introduced in chapter seven and illustrates the nature of the records keeping system and how accounting information is generated by the accounting system.
Early presentation of Statement of Cash Flows (chapter three).
A hundred years teaching experience shared among authors.
Quality of problems (graded by difficulty).