Financial Accounting: A Global Perspective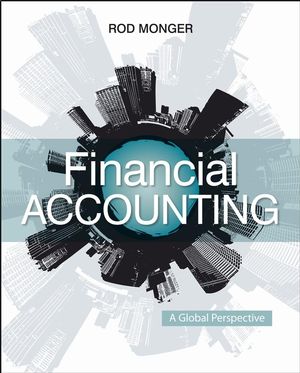 Financial Accounting: A Global Perspective
ISBN: 978-E-UDT-E0051-5
Jul 2011
800 pages
Description
Financial Accounting: A Global Approach presents accounting in a form familiar to major markets in the U.S., U.K., Japan, China, France and other countries, while unifying the material through international standards.  The general framework for discussion starts with international issues based on the work of the International Accounting Standards Board (IASB). The text also acknowledges the plethora of standards that come from other sources and helps the reader understand the heterogeneous nature of the global accounting arena. That is what the student, regardless of geographic location, will take from this book.  The text also includes a mixture of terminologies used in accounting, which will help the student to develop a global accounting vocabulary. The book has a very clear pedagogical framework including a series of complete templates for every chapter with specific examples to be used in class, as well as sample examinations.  Comprehensive case studies are embedded within the text.

The author has produced a short video explaining why this text is a must for your course - please follow this link www.yada-yada.co.uk/wiley/RodMonger/RodMongerFAaud.htm
Preface.
About the author.
PART I. UNDERSTANDING FINANCIAL REPORTS.
1. The Financial Accounting Reporting System.
2. Accounting Standards and Ethics.
3. The Financial Statements.
PART II. PREPARING THE FINANCIAL STATEMENTS.
4. The Accounting Process.
5. Accrual and Closing.
6. Accounting Information Systems.
PART III. REPORTING FINANCIAL POSITION.
7. Non-Financial Assets.
8. Financial Assets and Liabilities.
9. Equity.
PART IV. REPORTING CHANGES IN FINANCIAL POSITION.
10. Equity Changes.
11. Cash Flows.
PART V. PRESENTING AND EVALUATING FINANCIAL STATEMENTS.
12. Comparability and Consistency.
13. Assurance Systems.
Glossary.
References.
Provides a global approach to financial accounting and brings in perspectives from a range of countries across the world
Written within the general framework based on International Accounting Standards Board (IASB) efforts and so can be used as a textbook in any country
Provides a series of complete templates for the syllabus, each and every lecture including specific examples to be used in class, as well as complete examinations
Provides a detailed discussion of financial statement analysis which is an attractive feature for undergraduates
Includes numerous worked examples and real world examples

The author has produced a short video explaining why this text is a must for your course - please follow this link www.yada-yada.co.uk/wiley/RodMonger/RodMongerFAaud.htm