Financial Accounting: Tools for Business Decision-Making, 6th Canadian Edition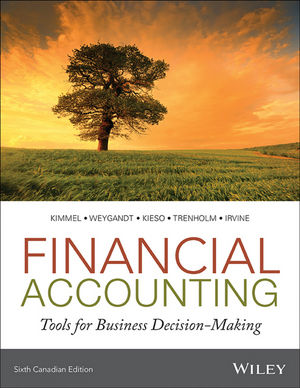 Financial Accounting: Tools for Business Decision-Making, 6th Canadian Edition
Description
Financial Accounting Sixth Canadian Edition and its supplement package is the only product that can deliver a unique balanced procedural and conceptual (user-oriented) approach, with a proven pedagogy and a breadth of problem material in an engaging manner giving students the opportunity to "get accounting" by "doing accounting". The authors' worked tirelessly to create materials that engage students in the learning process, help them learn to learn, and at the same time bring to their attention the most current coverage of both sets of rapidly changing accounting standards, IFRS and ASPE.
1. The Purpose and Use of Financial Statements
2. A Further Look at Financial Statements
3. The Accounting Information System
4. Accrual Accounting Concepts
5. Merchandising Operations
6. Reporting and Analyzing Inventory
7. Internal Control and Cash
8. Reporting and Analyzing Receivables
9. Reporting and Analyzing Long-Lived Assets
10. Reporting and Analyzing Liabilities
11. Reporting and Analyzing Shareholders' Equity
12. Reporting and Analyzing Investments
13. Statement of Cash Flows
14. Performance Measurement
APPENDICES
A. Specimen Financial Statements: Shoppers Drug Mart Corporation
B. Specimen Financial Statements: The Jean Coutu Group (PLC) Inc.
NEW! The sixth edition was subject to an overall, comprehensive revision to ensure that it is technically accurate, relevant, and up-to-date.
End of chapter materials has been carefully reviewed and revamped. New companies used in Financial Reporting and Comparative Analysis problems (companies which are more familiar to students thus making the text more student-friendly).
More cases added to each chapter. We've restructured our Broadening Your Perspective section. NEW to this edition in this section are critical thinking cases written by Wayne Irvine.
NEW Camtasia problem walkthroughs showing students step by step solutions, including what works and what doesn't.  This is like having the professor by your side. 
NEW QR bar code added to Self-Test Question section to take students to additional practice opportunities on any mobile device.
New WileyPLUS with Orion. 
WileyPLUS is a research-based online environment for effective teaching and learning. WileyPLUS is packed with interactive study tools and resources–including the complete online textbook–to give your students more value for their money. With WileyPLUS, with Kimmel students will get accounting by doing accounting.
WileyPLUS is now equipped with an adaptive learning module called ORION. Based on cognitive science, WileyPLUS with ORION, provides students with a personal, adaptive learning experience so they can build their proficiency on topics and use their study time most effectively. WileyPLUS with ORION helps students learn by learning about them.