Financial Analysis: A Controller's Guide, 2nd Edition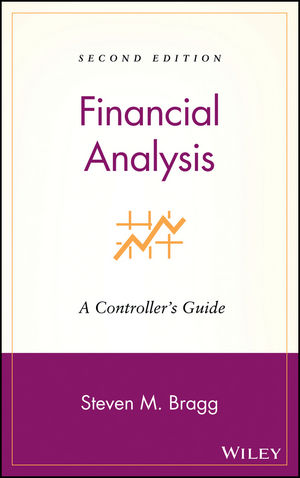 Financial Analysis: A Controller's Guide, 2nd Edition
ISBN: 978-1-118-42892-4
Jun 2012
416 pages
Description
""The latest edition goes beyond ho-hum analysis techniques and provides concrete problem solving. The text is sprinkled with real-world problems (and the analytical tools to solve them) that will be familiar to accounting professionals everywhere. A must-have for anyone looking to improve their company's decision making . . . and their own role in it.""
—George R. MacEachern President, Grosvenor Financial Services

""Steve Bragg has presented yet another comprehensive reference tool for the finance professional. Financial Analysis: A Controller's Guide is the perfect reference guide for today's controller, presenting not only traditional financial analysis information, but also various types of analyses that will benefit any type of organization. This book is a must-have for any financial professional desiring to make a relevant contribution to his/her organization.""
—Jodi Nefzger, CPP Director of Finance, Masonic Home of Missouri

Today's proactive controllers can soar past their mundane responsibilities and become active participants in their corporation's success with the visionary tools found in Steven Bragg's Financial Analysis: A Controller's Guide, Second Edition.

Now updated to include analyses of intangible asset measurement and performance improvement as well as evaluation methods to determine which products and services should be eliminated, Financial Analysis: A Controller's Guide, Second Edition helps financial managers upgrade their skills so they can answer their organization's call for company operations reviews, investment evaluations, problem reporting, and special investigation requests. Controllers prepared to address this growing need for more innovative financial analysis will open doors to a variety of promotions and high-level interactions with other departments.

Become a highly valued member of your company's infrastructure with the indispensable tools found in Financial Analysis: A Controller's Guide, Second Edition.
About the Author.
Preface.
PART ONE Overview.
Chapter 1 Introduction.
Chapter 2 The Role of Financial Analysis.
PART TWO Financial Analysis.
Chapter 3 Evaluating Capital Investments.
Chapter 4 Evaluating Financing Options.
Chapter 5 Evaluating Cash Flow.
Chapter 6 Evaluating Acquisition Targets.
Chapter 7 Increasing Shareholder Value.
Chapter 8 Intangible Asset Measurement and Performance Enhancement.
Chapter 9 Breakeven Analysis.
Chapter 10 Business Cycle Forecasting.
PART THREE Operational Analysis
Chapter 11 Evaluating Management Performance.
Chapter 12 Analyzing Process Cycles.
Chapter 13 Product and Service Profitability Analysis.
Chapter 14 Financial Analysis of Operational Topics.
Chapter 15 Capacity Utilization Analysis.
PART FOUR Other Analysis Topics.
Chapter 16 Financial Analysis with an Electronic Spreadsheet.
Chapter 17 "What If " Analysis with an Electronic Spreadsheet.
Chapter 18 Financial Analysis Reports.
Chapter 19 Determining the Cost of Capital.
Chapter 20 Analyzing Risk.
APPENDICES.
Appendix A Symptoms and Solutions.
Appendix B Commonly Used Ratios.
Index.