Financial Darwinism: Create Value or Self-Destruct in a World of Risk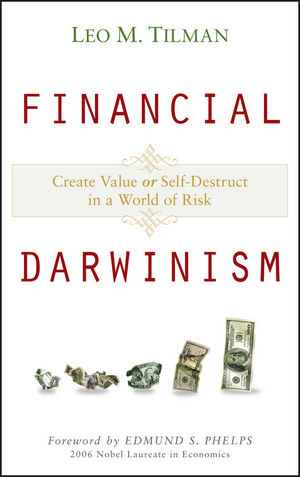 Financial Darwinism: Create Value or Self-Destruct in a World of Risk
ISBN: 978-0-470-38546-3
Nov 2008
172 pages
Description
In Financial Darwinism, author Leo Tilman lays the groundwork for understanding the new financial order by introducing his evolutionary thesis and then outlines an actionable decision-making framework that enables financial institutions and investors to fully leverage the power of business strategy, corporate finance, investment analysis, and risk management. Financial Darwinism is an invaluable road map to today's financial world and an essential guide to surviving and thriving during these challenging times.
Buy Both and Save 25%!
Original Price:$57.90
Purchased together:$43.43
save $14.47
Cannot be combined with any other offers.
Foreword ix
Preface xv
Acknowledgments xix
CHAPTER 1 Understanding and Navigating the Financial Revolution 1
Introduction: The Need for Transformational Thinking 1
From George Bailey to the Golden Age 5
Accounting for Profits the Old-Fashioned Way 7
The "Great Moderation" As an Evolutionary Catalyst 11
Economic Performance in the Dynamic New World 14
Pressures on Static Business Models 18
Dynamic Finance Perspective on Financial Crises 21
Pillars of Strategic Decision Making 25
Value Creation Through Dynamism and Business Model Transformations 26
Beyond the Facade: The Importance of Risk-Based Transparency 35
CHAPTER 2 The Old Regime and Its Demise 39
Economic Performance and Viability of Financial Institutions 39
Static Business Models 41
Dominant Forces: The Future that Has Already Happened 46
Pressures on Static Business Models 55
CHAPTER 3 The Dynamic New World 65
Risk-Based Economic Performance 65
Balance Sheet Arbitrage 68
Principal Investments 69
Systematic Risk Exposures 71
Fees and Expenses 74
Capital Structure Optimization 75
Economic Performance Attribution 75
CHAPTER 4 Business Model Transformations 79
Pillars of Strategic Decisions in a Dynamic World 79
Responsive Recalibrations of Business Models 81
Full-Scale Business Model Transformations 86
Making the Strategic Vision a Reality 93
CHAPTER 5 The Road to Financial Darwinism 99
Real-World Business Model Transformations 99
Stakeholder Communication & Equity Valuation in a Dynamic World 109
Economic Value Creation (and Destruction) by Non-Financial Corporations 112
The Infamous "Carry Trade" and the Old Ways of Thinking 115
A Dynamic Finance Perspective on Modern Financial Crises 118
Beyond the Facade: The Need for Risk-Based Transparency 127
Conclusion 129
Epilogue: Financial Darwinism and the Crisis of 2007–2008 133
Appendix A: The Risk-Based Economic Performance Equation 137
Appenidx B: A Case Study in Dynamic Finance 141
Notes 157
References 163
About the Author 167
Index 169
"As the world places increasing emphasis on fair valuation, risk-based financial disclosure and risk-focused regulation, Tilman's guide becomes more important for CEOs, directors and fiduciaries who must build risk evaluation into all fundamental decisions." (
Corporate Governance
)
"While Tilman's thesis is directed to financial firms, the concept applies to all businesses. Failure to adopt a risk management strategic planning model will lead to extinction, hence the "Darwinism" in the title. Summing Up: Recommended." (Choice, April 2009)
"...Tilman couldn't have chosen a better time...clearly written and with plenty of rational advice for financial institutions" (City A.M., December 11th 2008)
"One of the book's merits is that he offers tables that provide taxonomies of business model transformation." (Financial World, February 2009)
"This book is highly recommended for finance professional sat all levels of an organization as well as investors desiring insights into how firms can weather the "tectonic shift" in the financial landscape. The terminology and models used should be within the grasp of anyone who has taken an undergraduate course in finance." (Journal of Corporate Finance and Accounting)
"[Tilman] sees much to be learned from the collective blindness that led to the economic meltdown. … says the first steps to recovery are humility and innovation" (Alpha magazine)
"This book offers a deeply thoughtful and well-reasoned analysis of what has gone wrong and the outlines of an eventual road to recovery." (Financial Executive International)