Financial Jiu-Jitsu: A Fighter's Guide to Conquering Your Finances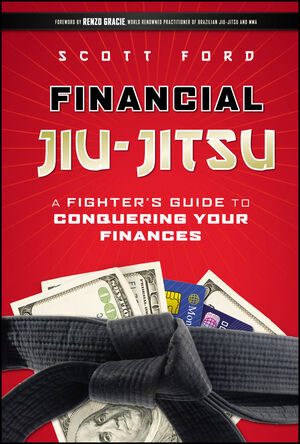 Financial Jiu-Jitsu: A Fighter's Guide to Conquering Your Finances
ISBN: 978-0-470-91075-7
Oct 2010
208 pages
Description
A unique approach to personal finance that tackles money like a jiu-jitsu fighter would tackle an opponent
In martial arts and personal finance, fundamentals are important. But while failing in Brazilian Jiu-Jitsu may be disappointing, it's nothing compared to failing to build wealth and creating a better future for your family.
Nobody understands this better than Scott Ford, a top-ranked financial advisor and Jiu-Jitsu enthusiast. Now, in Financial Jiu-Jitsu, he shows you how to overcome your emotions and state of mind to excel at your investing endeavors. Along the way, Ford teaches you fundamental skills such as automating your savings and investments, the importance of paying yourself first, and managing credit wisely.
Compares the patience and practice of the martial arts, specifically Jiu-Jitsu, to investing
Offers an approach to adapting to financial change as you move through life, while maintaining the same guiding principles
Author Scott Ford is ranked in the top one percent of all financial advisors
The guiding principles in this book are the foundation of your financial fight plan and the keys to reaching your financial dreams. No matter what punches the market or the economy throws at you, if you follow these principles you'll always react well in the face of adversity.
Foreword.
Acknowledgments.
Introduction.
Chapter 1 Prepare to Win —Now and Forever.
Give Back.
Pay Yourself First.
Automate!
Maintain a Cash Safety Net.
Manage Credit Wisely.
Get Time on Your Side.
Never Procrastinate.
Make Reality Your Perception.
Follow a Simple and Comprehensive Strategy.
Chapter 2 Balance and Base: What Is True Wealth to You?
Step 1: Forget Financial Goals (At Least for Now).
Step 2: Develop Your Vision for Your Life.
Step 3: Determine Your Specifi c Goals.
Chapter 3 Closing the Gap: Analyze your Current Situation.
Before You Close the Gap: Overcome Your.
Fear of the Unknown.
Step 1: Forget about Budgets.
Step 2: Make Sure You Have Positive Cash Flow.
Step 3: Create a Personal Balance Sheet.
Step 4: Keep in Mind the Total Financial Picture.
Chapter 4 Family: Your Family Benchmark.
Your Family Benchmark: An Introduction.
The Family Benchmark in Action.
Time and the Power of Compounding.
Tie the Steps Together.
Starting Point.
Chapter 5 Your Team of Advisors: Two Is Better Than One: The Power of Respect.
Types of Advisors.
All Those Initials: Professional Designations.
How Financial Professionals Earn Their Keep.
Choosing an Advisor.
Interview!
Trust—But Verify.
Chapter 6 Timing: What Is Your Investment Strategy?
Stage 1: Build an Emergency Fund.
Stage 2: Own Your Home.
Stage 3: Take Advantage of Tax-Deferred Investments.
Stage 4: Max Out 401(k) Match Contributions.
Stage 5: Contribute to Traditional and Roth IRAs.
Stage 6: Determine How to Invest Your Funds.
Stage 7: Diversify into Other Investments.
Chapter 7 Gain Control: Your Estate Plan.
Estate Plans: The Basics.
Revocable Living Trust.
Pourover Will.
Health-Care Power of Attorney.
HIPAA Power of Attorney.
Property Power of Attorney.
Family Retirement Preservation Trust.
Estate Planning Letter.
But Don't Simply File Your Plan Away!
Pay Attention to Benefi ciaries.
Chapter 8 Position Before Submission: Analyze Insurance Needs.
Protect Yourself—But Not to the Extreme.
Life Insurance.
Auto Insurance.
Property Insurance.
Health Insurance.
Disability Insurance.
Chapter 9 Attitude: Life in Retirement.
How Much Money Will You Need?
Current Spending Estimate.
10-10-4 Rule.
Chapter 10 Leverage: Establish Your Tax Plan.
Tax Savings: Homeowners.
Tax Savings: Students and Their Parents.
Tax Savings: Retirement.
Chapter 11 Love, Discipline, and Dedication: Have Your Plan Updated.
Conclusion.
Afterword.
Appendix.
About the Author.
Index.