Financial Markets, Institutions and Money, 2nd Edition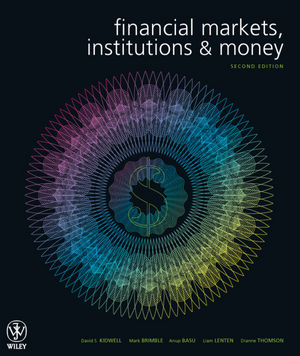 Financial Markets, Institutions and Money, 2nd Edition
ISBN: 978-1-742-16662-9
Oct 2010
791 pages
Product not available for purchase
Description
Financial Markets, Institutions and Money 2nd edition introduces students to the financial system, its operations, and participants. The text offers a fresh, succinct analysis of the financial markets and discusses how the many participants in the financial system interrelate. This includes coverage of regulators, regulations and the role of the Reserve Bank of Australia, that ensure the system's smooth running, which is essential to a modern economy. The text has been significantly revised to take into account changes in the financial world.

The financial crisis of 2007-09 and its impact on the efficiency of the financial system refocused the attention of the 2nd edition of Financial Markets, Institutions and Money on the critical role that financial systems play in an economy.
1. Overview.
2. The monetary authorities.
3. The Reserve Bank of Australia and interest rates.
4. The level of interest rates.
5. Bond prices and interest rate risk.
6. The structure of interest rates.
7. Money markets.
8. Bond markets.
9. Equity markets.
10. Derivatives markets.
11. International markets.
12. Regulation of financial institutions.
13. Commercial bank operations.
14. Nonbank financial institutions.
15. International banking.
16. Insurance investment companies and superannuation.
17. Investment banking and venture capital.
18. Sustainability and the finance sector.
Glossary.
Index.
• Comprehensive coverage of the Global Financial Crisis (GFC) and the role of financial institutions during times of financial instability.
• A new chapter on Sustainability and the Finance Sector challenges businesses to be engaged with the community, to contribute to environmental and social issues and to govern themselves ethical and responsibly.
• In Focus vignettes have been updated and now conclude with a series of questions which make them ideal for case study and group work

• Provides an overview of the financial system and how it permits the allocation of funds throughout the economy
• Discusses the types of financial institutions and markets and the benefits they provide to the economy as well as the risks they face: interest rate, credit, liquidity, foreign exchange and political risk
• Considers the global financial crisis, the risk it posed to financial system stability and its impact on financial market participants
• Discusses the RBA's determination and implementation of monetary policy during crisis and recovery
• Reader friendly features in each chapter including:
- an introduction that sets the scene
- a chapter roadmap for guidance
- In Focus vignettes that apply the content and engage the reader
- Illustrative examples that present key equations and calculations to reinforce understanding of the key mathematical procedures
- Learning Check that allow for reflection on the key issues
- End-of-chapter activities for practice and revision