Financial Planning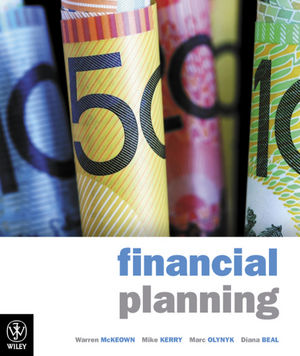 Financial Planning
ISBN: 978-1-742-46708-5
Aug 2011
653 pages
Product not available for purchase
Description
Financial Planning has been thoroughly revised to reflect the legislative and regulatory changes that affect the Australian financial planning industry. This new edition considers a number of reforms introduced as a consequence of the global financial crisis and the Henry Review on taxation reform. The text continues to present a comprehensive introduction to financial planning decisions, services and products, risk management and the importance of long term strategic financial planning and life-long management.



The text is the new edition of what was previously titled Personal Finance which has been a market leading textbook in the area of financial planning for 10 years. As more and more Australians look to financial planners for information and guidance on investment opportunities, and short-term and long-term financial planning goals, this new edition reflects the financial planning industry need to ensure that its members are accredited and comply with industry recognised professional and ethical skills.
Preface xiii
Acknowledgements xvii
1 Personal financial planning 1
2 Financial planning skills 45
3 Taxation planning 85
4 Investment choices 135
5 Direct investment — fixed interest and shares 171
6 Direct investment — property 215
7 Managed funds 253
8 Leveraged investments 297
9 Consumer credit 335
10 Risk management and insurance 371
11 Superannuation 417
12 Retirement planning 457
13 Social security 495
14 Estate planning 535
15 Development of a statement of advice 569
Glossary 635
Index 645
Extensively revised to reflect the regulatory structure and compliance requirements incorporated in the Corporations Act 2001 and the Financial Services Reform Act 2001.
Ch 1 Personal Financial Planning has been thoroughly updated to consider the impact of the global financial crisis on the Australian financial environment industry and the management of risk.
The Australian taxation system and the recommendations of the Henry Review of 2010 are discussed in chapter 3 Taxation Planning. The chapter explains the taxation implications for income splitting, income versus capital growth, negative gearing and remuneration planning.
Ch 4 Investment choices is a new chapter that considers the general attributes of investors, investment classes available, and the relationship between risk and return.
Illustrative examples appear in all chapters and provide practical workings of financial planning options and methods.
The accessible, easy-to-read style makes it ideal for non-business students.
Personal Finance Bulletin, Professional Advice and Industry Insight vignettes highlight professional issues, relevant financial services and products, and new trends. These chapter vignettes also establish the importance of making sound professional judgements.