Financial Reporting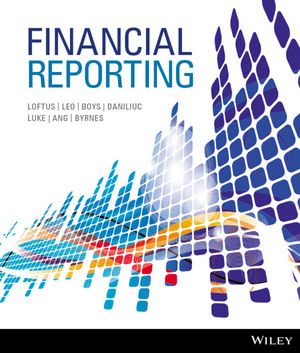 Financial Reporting
ISBN: 978-0-730-31111-9
Jun 2015
1128 pages
Product not available for purchase
Description
Loftus, Financial Reporting builds on the strengths of Loftus, Understanding Australian Accounting Standards and Leo, Company Accounting, bringing the strongest elements of those two respected titles into one combined volume. This 35 chapter text is designed to cover all of the 2nd and 3rd year financial accounting topics typically taught across two units, including accounting regulation, the conceptual framework, applying accounting standards, disclosures and group accounting. It explains accounting principles and practice to students in a clear, understandable way and provides both a conceptual insight as well as a practical application of the various accounting standards.
The author team is comprised of a group of academics who are actively teaching in this area incl. Janice Loftus (Uni of Adelaide), Noel Boys (Melb), Belinda Luke (QUT), Sorin Daniliuc (ANU), Hong Ang (Deakin) and Karen Byrnes (USQ). The authors have brought their collective teaching insights to bear on the learning design of the text and accompanying online course the result of which is a contemporary teaching and learning package that will engage and empower students to study independently and achieve greater success in these challenging units.
Preface xvi
Acknowledgements xviii
Part 1 THEORY AND PRACTICE 1
1 Accounting regulation and the conceptual framework 3
2 Application of accounting theory 33
3 Fair value measurement 55
Part 2 ELEMENTS OF FINANCIAL STATEMENTS 81
4 Inventories 83
5 Property, plant and equipment 117
6 Intangible assets 153
7 Impairment of assets 179
8 Provisions, contingent liabilities and contingent assets 213
9 Employee benefits 245
10 Leases 277
11 Financial instruments 321
12 Income taxes 361
13 Share capital and reserves 403
14 Share-based payment 449
15 Revenue 477
Part 3 DISCLOSURE 505
16 Presentation of financial statements 507
17 Statement of cash flows 553
18 Accounting policies and other disclosures 595
19 Earnings per share 619
20 Operating segments 639
21 Related party disclosures 663
22 Sustainability and corporate social responsibility reporting 675
Part 4 FOREIGN CURRENCY 697
23 Foreign currency transactions and forward exchange contracts 699
24 Translation of foreign currency financial statements 735
Part 5 ECONOMIC ENTITIES 767
25 Business combinations 769
26 Consolidation: controlled entities 801
27 Consolidation: wholly owned entities 819
28 Consolidation: intragroup transactions 875
29 Consolidation: non-controlling interest 919
30 Consolidation: other issues 971
31 Associates and joint ventures 1025
32 Joint arrangements 1061
33 Insolvency and liquidation E-CHAPTER
34 Accounting for mineral resources E-CHAPTER
35 Agriculture E-CHAPTER
Index 1093
Concepts for review: This feature lists the prerequisite knowledge students need in order to understand the chapter. It prompts students to revise those concepts should they need to.
Learning objectives: The learning objectives have been designed to articulate into the broader Accounting Threshold Learning Objectives. They reflect the level of knowledge and skill that an Accounting major should have acquired after studying each section of the chapter.
Key terms: The important terminology introduced in the chapter is bolded and coloured. These key terms help students identify the most important concepts. They are also listed at the end of each chapter to help students assess their knowledge.
AASB Standards: Quotes from the AASB standards and explanations are included throughout the text. The equivalent international standard is also noted.
Illustrative examples: In each chapter a range of illustrative examples are provided to model how accounting principles are applied. The aim is to enable students to gradually build their understanding and skills by providing lower-level examples initially and then progressing to more detailed scenarios as the chapter progresses.
Learning checks: A list of the main few points covered in the topic appears at the end of every section. This helps s to revise and also to assess whether they need to study the section more before proceeding to the next one.
Chapter summaries: Each chapter concludes with a succinct overview of the key concepts and processes discussed in the chapter.
Application and analysis exercises: End of chapter exercises allow students to test their progress and whether they have understood what they have read. These exercises require the student to apply their knowledge to specific problems and scenarios and are at graduated levels of difficulty allowing students to build confidence by achieving success with basic problems before tacking the more complex tasks.
Case studies: The case studies require the students to write a report explaining the accounting concepts relevant to a particular example/scenario. As part of this, they may have to solve problems, but the focus is on explaining the concepts.
Comprehension questions: Comprehension questions require the student to discuss, explain or apply a concept rather than simply restate it.
Threshold Learning Outcomes: There is a growing demand for graduates with strong skills in communication, problem solving, critical thinking and judgement, and the need to provide assurance that graduates have developed these skills. To this end, Threshold Learning Outcomes for accounting bachelors and coursework masters degrees have been developed. This text supports the development of these learning outcomes by highlighting which skills are developed across the end-of-chapter application and analysis exercises
WileyPLUS: The text is accompanied for the first time by a WileyPLUS course featuring algorithmic versions of most of the end-of-chapter questions plus animated examples of the key demonstration problems from the text with additional explanatory content to facilitate student self-study.