Financial Statement Analysis: A Practitioner's Guide, 3rd Edition, University Edition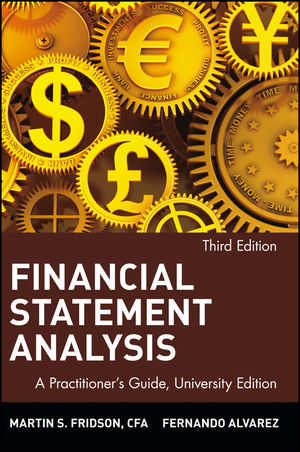 Financial Statement Analysis: A Practitioner's Guide, 3rd Edition, University Edition
ISBN: 978-0-471-40917-5
Mar 2002
432 pages
Product not available for purchase
Description
Praise for Financial Statement Analysis
A Practitioner's Guide
Third Edition
University Edition

"This is an illuminating and insightful tour of financial statements, how they can be used to inform, how they can be used to mislead, and how they can be used to analyze the financial health of a company."
-Professor Jay O. Light
Harvard Business School

"Financial Statement Analysis should be required reading for anyone who puts a dime to work in the securities markets or recommends that others do the same."
-Jack L. Rivkin
Executive Vice President (retired)
Citigroup Investments

"Fridson and Alvarez provide a valuable practical guide for understanding, interpreting, and critically assessing financial reports put out by firms. Their discussion of profits-'quality of earnings'-is particularly insightful given the recent spate of reporting problems encountered by firms. I highly recommend their book to anyone interested in getting behind the numbers as a means of predicting future profits and stock prices."
-Paul Brown
Chair-Department of Accounting
Leonard N. Stern School of Business, NYU

"Let this book assist in financial awareness and transparency and higher standards of reporting, and accountability to all stakeholders."
-Patricia A. Small
Treasurer Emeritus, University of California
Partner, KCM Investment Advisors

"This book is a polished gem covering the analysis of financial statements. It is thorough, skeptical, and extremely practical in its review."
-Daniel J. Fuss
Vice Chairman
Loomis, Sayles & Company, LP
PART I: READING BETWEEN THE LINES.

Chapter 1: The Adversarial Nature of Financial Reporting.

PART II: THE BASIC FINANCIAL STATEMENTS.

Chapter 2: The Balance Sheet.

Chapter 3: The Income Statement.

Chapter 4: The Statement of Cash Flows.

PART III: A CLOSER LOOK AT PROFITS.

Chapter 5: What Is Profit?

Chapter 6: Revenue Recognition.

Chapter 7: Expense Recognition.

Chapter 8: The Applications and Limitations of EBITDA.

Chapter 9: The Reliability of Disclosures and Audits.

Chapter 10: Mergers-and-Acquisitions Accounting.

Chapter 11: Profits in Pensions.

PART IV: FORECASTS AND SECURITY ANALYSIS.

Chapter 12: Forecasting Financial Statements.

Chapter 13: Credit Analysis.

Chapter 14: Equity Analysis.

Bibliography.

Glossary.

Notes.

Index.
"…a cogent and valuable reference for any  user of financial statements..." (Financial World, Feb. 2005)