Financial Strategy, 2nd Edition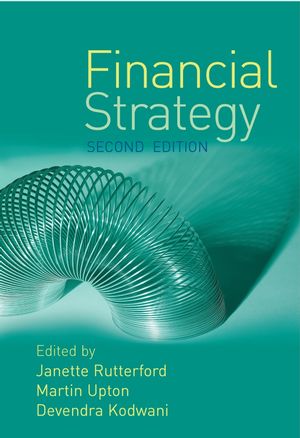 Financial Strategy, 2nd Edition
ISBN: 978-0-470-01655-8
Aug 2006
492 pages
Product not available for purchase
Introduction.
Section 1 Trends in Finance Theory.
Section Overview (Janette Rutterford).
1 The World was their Oyster: International Diversification Pre-World War I (Janette Rutterford).
CASE STUDY 1 Global Evidence on the Equity Risk Premium (Elroy Dimson, Paul Marsh and Mike Staunton).
2 Behavioral Finance (Jay R. Ritter).
CASE STUDY 2 Do Fundamentals – or Emotions – Drive the Stock Market? (Marc Goedhart, Timothy Koller and David Wessels).
Section 2 Adding Value Through Investment.
Section Overview (Janette Rutterford).
3 Why Bad Projects Are So Hard to Kill (Isabelle Royer).
4 Realizing the Potential of Real Options: Does Theory Meet Practice? (Alexander Triantis).
CASE STUDY 3 Real Options (K. Leslie and M. Michaels).
5 Mergers, MNEs and Innovation: The Need for New Research Approaches (Christian Berggren).
CASE STUDY 4 Why Most Cross-Border Deals End in Tears (Simon London).
Section 3 Adding Value Through Financing.
Section Overview (Janette Rutterford).
6 The Capital Structure Puzzle: Another Look at the Evidence (Michael J. Barclay and Clifford W. Smith, Jr.).
7 Disappearing Dividends: Changing Firm Characteristics or Lower Propensity to Pay? (Eugene F. Fama and Kenneth R. French).
8 The Value of Share Buybacks (Richard Dobbs and Werner Rehm).
CASE STUDY 5 Capital Ideas (Keith Boyfield).
CASE STUDY 6 Death of the Dividend? (Adrian Wood).
CASE STUDY 7 Sciona: A Venture Capital Case Study (Colin Bond).
9 Initial Public Offerings (Jay R. Ritter).
CASE STUDY 8 Google Press Cuttings.
(A) Are You About to Get Googled? (Tony Glover).
(B) Ignore Wall St's Whining – Google's IPO Worked (James Surowiecki).
(C) Google's Earnings More than Double 1st Quarterly Results as Public Firm Strong (Robert Weisman).
(D) How High Can Google Fly? (Verne Kopytoff).
(E) Bowling for Google (Paul R. La Monica).
(F) Google's Rising Share Price is Cold Comfort for Investors (Stephen Schurr).
Section 4 Adding Value through Risk Management.
Section Overview (Martin Upton).
10 Operating Exposure (D.R. Lessard and J.B. Lightstone).
11 Currency Exchange Trading and Rogue Trader John Rusnak (Sharon Burke).
12 Value at Risk: Uses and Abuses (Christopher L. Culp, Merton H. Miller and Andrea M.P. Neves).
13 Learning to Live with Fixed Rate Mortgages: An Evolutionary Approach to Risk Management (Martin Upton).
14 Credit Derivatives (John Kiff and Ron Morrow).
CASE STUDY 9 Journey to Junk (Jenny Wiggins).
CASE STUDY 10 Who Rates the Raters? (The Economist).
Section 5 Measuring Performance.
Section Overview (Janette Rutterford).
15 What can be Expected from Accounting Standards? (Gilbert Gélard).
CASE STUDY 11 Queens Moat Houses plc (Queens Moat Houses plc Annual Accounts).
CASE STUDY 12 Learn by Numbers (Keith Boyfield).
16 A Star to Sail By? (The Economist).
17 EVA Implementation, Market Over-Reaction, and the Theory of Low-Hanging Fruit (Barbara Lougee, Ashok Natarajan and James S. Wallace).
18 Transforming the Balanced Scorecard from Performance Measurement to Strategic Management: Part I (Robert S. Kaplan and David P. Norton).
19 Performance Indicators: 20 Early Lessons from Managerial Use (Andrew Likierman).
Section 6 Governance and Ethics.
Section Overview (Janette Rutterford).
20 It's Time to Rebalance the Scorecard (James M. Higgins and David M. Currie).
21 Stakeholder Capitalism (Will Hutton).
CASE STUDY 13 The State of Denial We're In (The Economist).
22 Controversy Incorporated (David Cogman and Jeremy M. Oppenheim).
CASE STUDY 14 An Interview with Microsoft's CFO (Bertil E. Chappuis and Timothy M. Koller).
CASE STUDY 15 Corporate Governance Failures: To What Extent is Parmalat a Particularly Italian Case? (Andrea Melis).
CASE STUDY 16 Companies Still Failing to Fill the Funding Gap (Lucy Warwick-Ching).
Index.
More than 50% of the articles in the second edition are new (further information to follow)
Includes new case studies
Combines both finance and accounting articles.
Covers both public and private sector issues in finance and accounting e.g. choice of capital structure of privatized utilities and of trusts; private sector Vs public sector funding of projects.
Addresses issues relevant to UK/US listed companies as well as an international audience
The articles will be of topical interest, non-mathematical and are of 10-15 pages in length.
Articles which pinpoint future trends in both finance and accounting
A practical rather than overly theoretical approach
Case studies and examples with a global emphasis