Financial Valuation: Applications and Models, 2nd Edition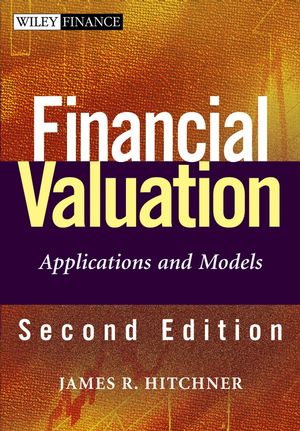 Financial Valuation: Applications and Models, 2nd Edition
ISBN: 978-0-470-04621-0
Sep 2006
1402 pages
Description
Praise for Financial Valuation
"This Second Edition addresses virtually all of the recent hot topics in business valuation, and there are many of them since the first edition. Most chapters are updated with new material, including, especially, the Duff & Phelps Risk Premium Report as an alternative to Ibbotson's risk premium data. As with the first edition, the authors are very well-known and provide incisive analysis."
--Shannon Pratt, CFA, FASA, MCBA, CM&AA, CEO, Shannon Pratt Valuations, LLC
"Though the first edition of Mr. Hitchner's book was excellent in all regards, this Second Edition squarely puts Hitchner and his team of authors at the top of the list of authorities in the field of business valuation. Few publications on the subject even come close to the book's thorough coverage of the topic, but equally impressive is the clarity with which Hitchner depicts and explains highly complex subject matters. So impressed with Financial Valuation Applications and Models, the National Association of Certified Valuation Analysts has developed a three-day course based upon this book entitled, 'Advanced Valuation and Case Study Workshop,' which is now a cornerstone training program for our organization."
--Parnell Black, MBA, CPA, CVA, Chief Executive Officer, NACVA
"This book is a valuable resource for every BV library. It has material not covered in other BV books and this Second Edition has much more information than the first. Financial Valuation Applications and Models is the primary textbook for AICPA's business valuation education and it covers most of the topics on the test for the AICPA's Accredited in Business Valuation (ABV) credential. Its thirty authors are nationally respected practitioners who have written this book for practitioners. Many of the authors are current or former members of the AICPA Business Valuation Committee and the AICPA BV Hall of Fame."
--Michael A. Crain, CPA/ABV, ASA, CFA, CFE, Chair, AICPA Business Valuation Committee, Managing Director, The Financial Valuation Group
"This book has a tremendous wealth of information that all valuation analysts must have in their libraries. From those just starting their careers to the most experienced practitioner, all valuation analysts will benefit from the invaluable information, ranging from fundamental practices to the most innovative economic and valuation ideas of today."
--Scott R. Saltzman, CPA, CVA, ASA, DABFA, Managing Member, Saltzman LLC; President, National Association of Certified Valuation Analysts
Coauthors: Mel H. Abraham, R. James Alerding, Terry Jacoby Allen, Larry R. Cook, Michael A. Crain, Don M. Drysdale, Robert E. Duffy, Edward J. Dupke, Nancy J. Fannon, John R. Gilbert, Chris Hamilton, Thomas E. Hilton, James R. Hitchner, Steven D. Hyden, Gregory S. Koonsman, Mark G. Kucik, Eva M. Lang, Derald L. Lyons, Michael J. Mard, Harold G. Martin Jr., Michael Mattson, Edward F. Moran Jr., Raymond E. Moran, James S. Rigby Jr., Ronald L. Seigneur, Robin E. Taylor, Linda B. Trugman, Samuel Y. Wessinger, Don Wisehart, and Kevin R. Yeanoplos
About the Editor.
About the Authors.
Acknowledgments.
Preface.
Chapter 1: Introduction to Financial Valuation.
Chapter 2: Research and Its Presentation.
Chapter 3: Financial Statement and Company Risk Analysis.
Chapter 4: Income Approach.
Chapter 5: Cost of Capital/Rates of Return.
Chapter 6: Market Approach.
Chapter 7: Asset Approach.
Chapter 8: Valuation Discounts and Premiums.
Chapter 9: Report Writing.
Chapter 10: Business Valuation Standards.
Chapter 11: Valuation of Pass-Through Entities.
Chapter 12: Estate, Gift, and Income Tax Valuations.
Chapter 13: Valuation of Family Limited Partnerships.
Chapter 14: Summary of Court Case Issues.
Chapter 15: Shareholder Disputes.
Chapter 16: Valuation Issues in Employee Stock Ownership Plans.
Chapter 17: Valuation in the Divorce Setting.
Chapter 18: Valuation Issues in Small Businesses.
Chapter 19: Valuation Issues in Professional Practices.
Chapter 20: Strategic Benchmarking for Value.
Chapter 21: Valuation of Intangible Assets.
Chapter 22: Marketing, Managing, and Making Money in a Valuation Services Group.
Chapter 23: Business Damages.
Chapter 24: Other Valuation Services Areas.
Chapter 25: Valuation of Healthcare Service Businesses.
Chapter 26: Special Industry Valuations.
Chapter 27: Valuation Views and Controversial Issues: An Illustration.
INDEX.
An all-encompassing valuation handbook that presents the application of financial valuation theory.

New chapter on strategic benchmarking for value and techniques for analyzing a company

New chapter on Pass-Through Entities

New chapter on valuations for public companies and financial reporting

Provides the valuation theory, the consensus view on application, and then the tools to apply it

Strong emphasis on applications and models versus pure theory

Written by 25 top experts in business valuations field

Shows how to prepare a business valuation

Numerous examples, checklists and models to assist in navigating a valuation project

Contains hundreds of short, easily understandable "Valuation Tips"

Presents various views and methods and contradictions in business valuations

Covers "Best Practices" from view of the top professionals

The book is used to study for AICPA ABV Certfication (Advanced Business Valuation) exam- 100% compliant with AICPA ABV content specification outline.