Financial and Managerial Accounting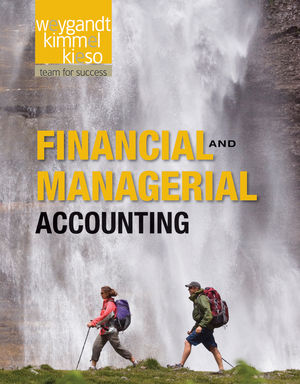 Financial and Managerial Accounting
ISBN: 978-1-118-00423-4
Dec 2011
1464 pages
Product not available for purchase
Description
Financial and Managerial Accounting, by Weygandt, Kimmel, Kieso is a new introductory program for the two semester accounting sequence that presents equal coverage of both introductory financial and managerial accounting topics. The Team for Success authors of Jerry Weygandt, Paul Kimmel, and Don Kieso bring years of industry, academic, and writing experience to the development of this new title which gives students the tools they need to understand the accounting cycle and key financial accounting topics, while presenting the managerial topics in an easy-to-understand fashion in a decision-making framework.
The Team for Success authors understand where students struggle in introductory accounting, and have developed a learning system that illustrates the accounting cycle and key transactions, while giving student the tools to apply their learning through sample exercises throughout the chapter. Weygandt Financial and Managerial Accounting relates accounting concepts to real-world experiences, is full relevant examples to students' lives, and provides IFRS coverage that will prepare students for the global economy.


Students using Weygandt, Financial and Managerial Accounting with WileyPLUS will spend more time with the material because it demonstrates the relevance and offers multiple opportunities for practice both in the book and in WileyPLUS. Students take more initiative with their learning, so you'll have a greater impact in the classroom.
WileyPLUS sold separately from text.
1
Accounting in Action 2
2 The Recording Process 52
3 Adjusting the Accounts 100
4 Completing the Accounting Cycle 162
5 Accounting for Merchandising Operations 218
6 Inventories 270
7 Fraud, Internal Control, and Cash 324
8 Accounting for Receivables 378
9 Plant Assets, Natural Resources, and Intangible Assets 422
10 Liabilities 474
11 Corporations: Organization, Stock Transactions, Dividends, and Retained Earnings 536
12 Investments 600
13 Statement of Cash Flows 644
14 Financial Statement Analysis 710
15 Managerial Accounting 764
16 Job Order Costing 808
17 Process Costing 852
18 Activity-Based Costing 900
19 Cost-Volume-Profit 950
20 Cost-Volume-Profit Analysis: Additional Issues 988
21 Incremental Analysis 1042
22 Pricing 1082
23 Budgetary Planning 1130
24 Budgetary Control and Responsibility Accounting 1180
25 Standard Costs and Balanced Scorecard 1238
26 Planning for Capital Investments 1290
APPENDICES
A Specimen Financial Statements: PepsiCo, Inc.
B Specimen Financial Statements: The Coca-Cola Company
C Specimen Financial Statements: Zetar plc
D Time Value of Money
E Payroll Accounting*
F Subsidiary Ledgers and Special Journals*
G Other Significant Liabilities*
H Standards of Ethical Conduct for Managerial Accountants*
Cases for Managerial Decision-Making* CA-1
*Available online at www.wiley.com/college/weygandt
• Accounting Cycle Visualized -- Visual, instead of textual, presentations of equation analysis are included in the accounting cycle chapters. Students will now more clearly see the relationship between basic analysis, equation analysis, Debit-Credit analysis, journal entries, and posting.
• A Look at IFRS - Section at end of each chapter prepares students for the global market place and includes an IFRS overview, differences between GAAP and IFRS (Key Points), IFRS/GAPP Convergence efforts (Looking to the Future), and IFRS Self-Test questions. An IFRS Application section contains review exercises and an international comparative problem.
• Real-World Emphasis - to orient students to the application of accounting principles and techniques in practice, the authors continue the practice of using numerous examples from real-world companies in chapter openers and in the Investor Insight boxes.
• Do IT! Exercises - teach students how to apply their knowledge quickly after they've learned it and include an Action Plan, which reviews the necessary steps to complete the exercise.
• Comprehensive Homework Material - each chapter concludes with Self-Test Questions, Questions, Brief Exercises, Do IT! Review, Exercises, Problems, the Continuing Cookie Chronicle Problem, and Comprehensive Problems. Excel Templates are available for certain Exercises and Problems.
• Broadening Your Perspective Section - is designed to help develop students' analysis and critical thinking skills.