Financier: The Biography of André Meyer: A Story of Money, Power, and the Reshaping of American Business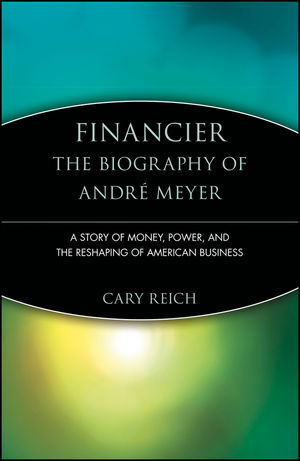 Financier: The Biography of André Meyer: A Story of Money, Power, and the Reshaping of American Business
ISBN: 978-0-471-24741-8 February 1998 400 Pages
Description
"A first-rate biography of an extraordinary man." --Andrew Tobias.
David Rockefeller once deemed André Meyer "the most creative financial genius of our time in the investment banking world." André Meyer was also known as "The Picasso of Banking" and "The Incomparable Investor," but probably his most notable achievement was his ability to completely and single-handedly revitalize American business after World War II. Cary Reich presents an illuminating portrait of this ferociously energetic, charming, and ruthless businessman who was a trusted advisor of the Kennedys and an intimate of William Paley and Katherine Graham. Reich goes into detail about Meyer's immigration from Nazi-occupied France, his prowess on the Monopoly board of business, and some of Meyer's lasting business legacies--now household names--including Avis and Holiday Inn.
* Includes a new foreword by Cary Reich.
Cary Reich (New York, New York) is the former executive editor of Institutional Investor. His most recent book, The Life of Nelson A. Rockefeller, was a finalist for the National Book Award. Mr. Reich is the recipient of numerous journalism awards, including the Overseas Press Award and the John Hancock Award for Excellence in Business and Financial Journalism.
A Tale of Two Financiers.

The Picasso of Banking.

Up and Coming.

Starting Over.

Gold Under the Asphalt.

André and Ferd.

Friends.

The Women in his Life.

The Avis Saga.

Sins of Pride.

Zeckendorf.

The Incomparable Investor.

Money Hungry.

Madeleine Malraux.

Life at Lazard.

Pierre the Duke.

The Sage of the Carlyle.

Merger Making.

Cashing in.

Jackie O. A Rendezvous with LBJ.

Tidying Up.

Eddie Gilbert ...

Again.

A Deal Under Fire.

The Vise Tightens.

Fighting for his Life.

Adrift.

The Torch Passes.

The Final Tally.

Notes on Sources.

Interviews.

Sources.

Index.