Financing Real Estate Investments For Dummies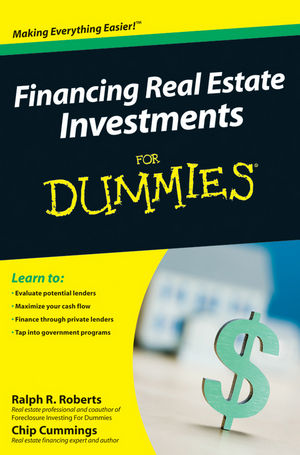 Financing Real Estate Investments For Dummies
ISBN: 978-0-470-49697-8 February 2011 288 Pages
Download Product Flyer
Download Product Flyer
Download Product Flyer is to download PDF in new tab. This is a dummy description. Download Product Flyer is to download PDF in new tab. This is a dummy description. Download Product Flyer is to download PDF in new tab. This is a dummy description. Download Product Flyer is to download PDF in new tab. This is a dummy description.
Description
Your practical guide to scoring cash to fuel your real estate investments
Want to be a smart, successful real estate investor? This no-nonsense guide contains everything you must know to make the right choices about financing your investments — from the various options available and the impact on cash flow to the tax implications and risk factors involved. You also get tried-and-true tips for surviving a down market and using current investments to finance future ones.
A crash course in real estate financing — understand standard terms and concepts, learn the various sources of investment capital, and gather all essential facts and figures

Weigh your options — decide which type of financing is best for your circumstances and incorporate it into your real estate investing plan

Finance residential properties — evaluate residential loan programs, navigate the loan application and processing, and handle the closing

Invest in commercial properties — know the different property types, choose the one that meets your investment goals, and discover unique sources for financing

Tap into unconventional sources — discover the pros and cons of "hard money," capitalize on seller financing, partner to share risk and equity, and invest on the cheap with no-money-down deals
Open the book and find:
Real-world advice on financing without tying up all your capital

How to get prequalified or preapproved for a loan

Questions to ask your lender upfront

Ways to avoid common beginner blunders

How to protect your personal assets from investment risks

Bargain-hunting hints for low-cost loans

Strategies for surviving a credit crunch

Ten pre-closing steps you must take
Table of contents
Introduction.
Part I: Gearing Up for Financing Your Real Estate Investments.
Chapter 1: Taking a Crash Course in Real Estate Investment Financing.
Chapter 2: Shielding Your Personal Assets from Investment Risks.
Chapter 3: Gathering Essential Documents, Facts, and Figures.
Chapter 4: Scoping Out Prospective Lenders.
Part II: Financing the Purchase of Residential Properties.
Chapter 5: Finding the Residential Loan Program That's Right for You.
Chapter 6: Bargain Hunting for Low-Cost Loans.
Chapter 7: Navigating the Loan Application and Processing.
Part III: Financing the Purchase of Commercial Properties.
Chapter 8: Picking the Right Commercial Property Type for You.
Chapter 9: Exploring Sources of Financing for Commercial Properties.
Chapter 10: Securing a Loan to Finance Your Commercial Venture.
Part IV: Sampling More Creative Financing Strategies.
Chapter 11: Financing in a Pinch with Hard Money and Other Tough Options.
Chapter 12: Capitalizing on Seller Financing.
Chapter 13: Partnering to Share the Risk and the Equity.
Chapter 14: Profiting from No-Money-Down and Other Creative Deals.
Part V: The Part of Tens.
Chapter 15: Ten Ways to Avoid Common Beginner Blunders.
Chapter 16: Ten Steps to Take before Closing.
Chapter 17: Ten Tips for Surviving a Credit Crunch.
Glossary.
Index.