Financing Schools for High Performance: Strategies for Improving the Use of Educational Resources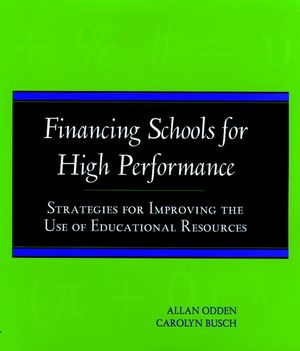 Financing Schools for High Performance: Strategies for Improving the Use of Educational Resources
ISBN: 978-0-787-94060-7
Apr 1998, Jossey-Bass
304 pages
Description
This essential new resource shows how educators can use existing dollars effectively and productively. The key lies in creating finance systems that give schools greater control over their budgets?allowing more resources to flow directly to teachers and students.

Allan Odden and Carolyn Busch look at inefficiencies in current education spAnding, examine varied approaches to school-based financing, and offer recommAndations for restructuring finance systems to meet ambitious reform goals. In addition, they propose ways to make funding more equitable across districts, outline the various elements that make school-based management work, and describe the key roles and responsibilities for the district, even in a decentralized system.

Financing Schools for High Performance is filled with examples of budgets, finance structures and formulas. It will prove to be an indispensable aid for state, district, and school-level administrators.
INTRODUCTION.

How the Education Dollar Is Spent.

The Case for Decentralized School Management.

APPROACHES TO SCHOOL-BASED FINANCING.

The Case for Charter Schools.

A State-to-School Model from Australia.

School-Based Financing in England.

RECOMMENDATIONS.

A Better Financing Framework.

Reallocating Education Dollars to Improve Results.

New Roles and Responsibilities for the District.

Summary: Putting Money Where it Matters Most.
"Figuring out how schools can shift their current resources into investments that will build high-performing schools is a challenge for all school administrators. Financing Schools for High Performance provides excellent guidance for this daunting task.... In an environment of standards-based learning, this book examines the key questions and practices that leaders must address to design and manage successful schools. This work will be valuable for every leader seeking to link decentralization of decision-making wtih improved student performance." (The School Administrator)

"Financing Schools for High Performance is a fine fit with the current political climate's emphasis on efficiency, effectiveness, and the 'bottom line' of student performance on standardized tests." (American Secondary Education)

"Allan Odden and Carolyn Busch give compelling arguments about the need to improve the use of the education dollar. Through exhaustive research about school site-based financing both here and abroad, they provide a solid and thorough case as to why school-based financing is a key element in improving school performance. This book is an invaulable tool and guide for educators, policymakers, and others interested in raising student achievement." (John L. Anderson, president, New American Schools)