Finding Allies, Building Alliances: 8 Elements that Bring--and Keep--People Together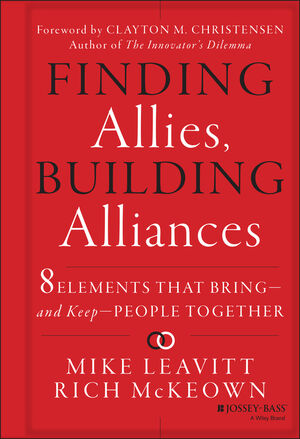 Finding Allies, Building Alliances: 8 Elements that Bring--and Keep--People Together
ISBN: 978-1-118-28247-2 August 2013 Jossey-Bass 240 Pages
Description
From Governor and White House cabinet member Mike Leavitt: how to find collaborative solutions to the greatest challenges
Your business challenges extend far beyond you and your firm, to the competitors within your industry and the regulators outside it. Finding solutions to larger issues requires cooperation between diverse stakeholders, and in this rapidly changing world, only those able to adapt and network successfully will produce fast, competitive solutions.
How can leaders successfully bridge divides and turn competitors into collaborators? Leavitt and McKeown explain how a well-chosen network can become a powerful alliance. Whether you're launching a new partnership, or rehabilitating one already in progress, Finding Allies, Building Alliances will help you find workable solutions to the most complex problems.
Written by Mike Leavitt, former Governor of Utah who brought the 2002 Winter Olympics to Salt Lake City, former US Secretary of Health and human services, and former head of the EPA; with his former Chief of Staff and business partner Rich McKeown, co-founder of Leavitt Partners
Includes a framework of 8 elements that will help any leader foster and maintain an effective, productive collaborative venture
Shows how better collaboration can not only solve problems, but boost the competitiveness and resilience in all sectors
Finding Allies, Building Alliances is essential reading for any business leader looking for transformative solutions and a sustainable future.
Foreword by Clayton M. Christensen ix
Introduction 1
1 The Collaborative Foundation: What It Is and Why It's Essential Today 7
2 A Common Pain 27
3 A Convener of Stature 41
4 Representatives of Substance 55
5 Committed Leadership 67
6 A Clearly Defined Purpose 83
7 A Formal Charter 101
8 The Northbound Train 113
9 Defining Common Ground 125
10 Collaborative Intelligence 145
11 Alliance Enterprises: When and How to Create Ongoing Collaborations 163
12 Collaborative Competitive Edge 173
Conclusion 183
Appendix: WRAP Charter 189
Notes 197
Acknowledgments 203
About the Authors 205
Index 207
"Leavitt... and McKeown show readers how to forge connections that solve problems and lead to new opportunities. Their eight strategies apply to both individuals and organizations. Finding Allies, Building Alliances is for any business leader who has ever felt like an island, or for those who have 500 LinkedIn connections but don't know whom to turn to with a problem."
—Beth Cabrera, T+D Magazine

"I've seen first-hand how collaboration is crucial to success—not only within an organization, but between multiple organizations. In Finding Allies, Building Alliances, Leavitt and McKeown provide a clear, simple roadmap for how to approach collaboration and the necessary elements for groups and people working together to succeed."
—Eric Schmidt, chairman, Google
"Highly collaborative teams with a common challenge, committed leadership, and a clearly defined purpose are essential to creating solutions in an increasingly chaotic world. Governor Mike Leavitt and and RichMcKeown have led, facilitated, and participated in many successful collaborations—and a few less-than-successful ones—and have written a clear, concise roadmap to building the best. Finding Allies, Building Alliances is for anyone who wants to be successful in today's complex, connected global economy."
—George Halvorson, chairman and CEO, Kaiser Permanente
"As companies globalize, reaching across national, cultural, and technological borders, Governor Leavitt and Rich McKeown have developed a realistic and applicable blueprint for building and harnessing the value of collaborative alliances. As Walgreens itself establishes a global pharmacy-led health and wellbeing enterprise, Finding Allies, Building Alliances could not be more timely—or eye-opening."
—Gregory D. Wasson, president and CEO, Walgreen Co.
"I wish all our leaders in and out of Washington would read Finding Allies, Building Alliances.  Leading is a team sport and Governor Leavitt and McKeown are masters at telling us how to do it."
—Donna E. Shalala, president, University of Miami, and former secretary, U.S. Department of Health and Human Services
"In today's highly matrixed organizations, the only way to drive transformative change is to build the right alliances, both internally and externally. In Finding Allies, Building Alliances,Mike Leavitt and Rich McKeown show you how to make it happen.
—Mark T. Bertolini, chairman, CEO, and president, Aetna
"Given their remarkable success as leaders in both business and government, Mike Leavitt and Rich McKeown have written the ultimate how-to on collaborative leading in business, government, and virtually any organization. In these transformational times, when organizational challenges have never been greater, bringing and keeping people together has never been more critical. The eight elements described in Finding Allies, Building Alliances create a playbook for success for every reader.  I couldn't recommend it more highly."
—Senator Tom Daschle, former U.S. Senate Majority Leader
"I observed firsthand Mike Leavitt's skill at bringing people together and building coalitions in government, politics, and international affairs. Finding Allies, Building Alliances explains how successful managers cooperate to achieve goals and get things done in an environment brimming with complexity, uncertainty, and a multiplicity of actors."
—Robert B. Zoellick, Former President of the World Bank Group, U.S. Deputy Secretary of State, US Trade Representative
"I've had the opportunity to work with Mike Leavitt and Rich McKeown and see first-hand their skills as problem solvers that made them so effective at finding solutions on the ground in China.  Through vivid examples here, he lays out how to get individuals with seemingly competing interests to work together towards solving a shared problem."
—Henry M. Paulson, Jr., chairman, The Paulson Institute, and former secretary, U.S. Department of Treasury 
"In our increasingly interconnected world, organizations face a growing number of challenges—disruptive technologies, regulatory reform, environmental issues—they cannot tackle in isolation. In Finding Allies, Building Alliances, Leavitt and McKeown advocate for formal, process-driven collaborations between organizations facing collective problems, explicitly designed to achieve an outcome with value for each of them. Great collaborations cannot be undertaken casually—they require effort, leadership, structure, process, and commitment. Finding Allies, Building Alliances offers a unique and practical approach to co-opetition in the 21st century."
—Craig Mundie, senior advisor to the CEO, Microsoft Corporation
 "In Finding Allies, Building Alliances, Leavitt and McKeown lay out practical steps any leader can follow to convene collaborators, gain consensus, and craft lasting solutions. Here is the recipe for any organization to solve problems more efficiently."
—Harvey V. Fineberg, MD, PhD,president, Institute of Medicine
"Having worked closely with Governor Leavitt and Rich McKeown to create Western Governors University, I can testify that they are masters at bringing together diverse interests into powerful alliances.  Finding Allies, Building Alliances will benefit anyone in business or non-profit leadership, since the right alliances with the right partners are a key to success."
—Robert W. Mendenhall, Ph.D., president, Western Governors University