Finding Your Voice: Learning to Lead . . . Anywhere You Want to Make a Difference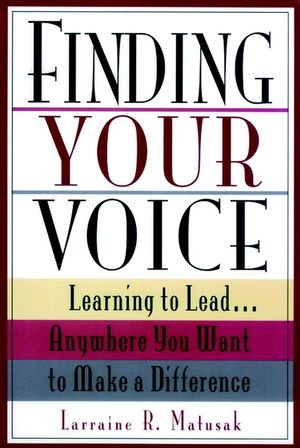 Finding Your Voice: Learning to Lead . . . Anywhere You Want to Make a Difference
ISBN: 978-0-787-90305-3
Oct 1996, Jossey-Bass
224 pages
Description
A remarkable book, the only one I know that focuses on how 'ordinary citizens' can learn to lead. Well-written and down-to-earth, more importantly, it is powerful testimony to the possibilities within all of us.
--Warren Bennis, university professor and Distinguished Professor of Business Administration, School of Business Administration, University of Southern California

Offers a practical set of tools to provide the knowledge and skills necessary for effective leadership, and shows how individuals without a title or position of power can pursue their passion and fit leadership opportunities to their specific talents.
WHY NOT YOU?

No Previous Experience Required.

Finding Your Voice.

The Two Sides of Leadership.

Use Your Internal Compass.

PATHWAYS TO EFFECTIVE LEADERSHIP.

Weaving a Shared Vision.

Appreciating a Kaleidoscope of Views.

Practicing Effective Communication.

Deciding How to Decide.

He Who Hesitates is Lost!

Understanding Power and Love.

Creating the Future.

Humor Works.

Summoning the Courage to Act.

Resources:

A. Leadership Development Programs.

B. RecommAnded Books on Leadership.

C. Audio and Video Programs.
"A remarkable book, the only one I know that focuses on how 'ordinary citizens' can learn to lead. Well-written and down-to-earth, more importantly, it is powerful testimony to the possibilities within all of us." (Warren Bennis, university professor and Distinguished Professor of Business Administration, School of Business Administration, University of Southern California, and author of Creative Collaboration)

"In the rich array of current leadership studies, Finding Your Voice stands out as a remarkably illuminating and probing study of leadership both at the practical level and in its ethical and moral dimensions...A must read." (James MacGregor Burns, senior scholar, Center for Political Leadership and Participation, Williams College, and Pulitzer Prize recipient)

"As citizens, every one of us has the opportunity to make a difference--to identify a problem or opportunity in our community and provide leadership in doing something about it. In Finding Your Voice, Dr. Matusak blAnds leadership concepts with practical experience to help us do so, and she uses a language we all understand! Must reading for all who care enough to lead." (Russel G. Mawby, chairman emeritus, W.K. Kellogg Foundation)