Finding the Deep River Within: A Woman's Guide to Recovering Balance and Meaning in Everyday Life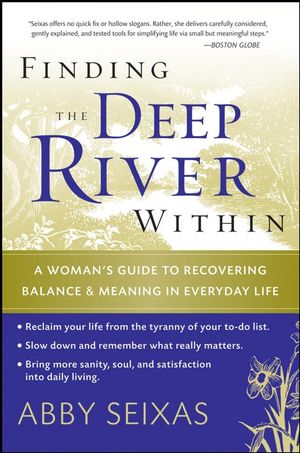 Finding the Deep River Within: A Woman's Guide to Recovering Balance and Meaning in Everyday Life
ISBN: 978-0-787-99749-6 September 2007 Jossey-Bass 256 Pages
Description
For over two decades, Abby Seixas has taught women how to slow down and reclaim their lives from the tyranny of their to-do lists. Based on the experiences of women whose lives have been transformed by her workshops, this highly anticipated first book presents her comprehensive program to nurture contact with the Deep River Within, the soul-nourishing dimension in each of us that flows beneath the busyness of daily life.  With gentle encouragement, practical guidance, and compelling stories of struggle and success, Finding the Deep River Within details the three preliminary doorways and six core practices for inviting the rich resources of our deeper nature into everyday life.
Table of contents
Deep River Exercises and Practices.
Acknowledgments.
Introduction.
Part One: Thirsting for the Deep River Realm.
1. The Disease of A-Thousand-Things-To-Do.
2. The Deep River Within.
3. Getting Started.
Part Two: Touching the Deep River: The Practices.
4. Take Time-In.
5. Make Boundaries.
6. Befriend Feelings.
7. Tame Self-Expectations.
8. Practice Presence.
9. Do Something You Love.
Part Three: Keeping the Deep River Flowing.
10. Beyond Self-Care.
Victory Log.
Notes.
Selected Reading.
The Author.
Index.
Reviews
"Seixas offers no quick fix or hollow slogans. Rather, she delivers carefully considered, gently explained, and tested tools for simplifying life via small but meaningful steps." --Boston Globe, October 2006
"Psychotherapist Abby Seixas ... won't tell you how to tick more items off your to-do list or find time for more activities. Instead, she counsels women to pare down their lives by learning to say no, quieting their inner perfectionists, and taking alone time every day. Seixas' program is a practical antidote to our culture's obsession with having--and doing--it all."--Ladies Home Journal Online
"If you can wait at a red light without applying makeup or practicing Italian verbs with a CD, this book is not for you. For the rest of us, Seixas has a message: Slow down!" --Brandeis University Magazine