Fire Ecology: United States and Southern Canada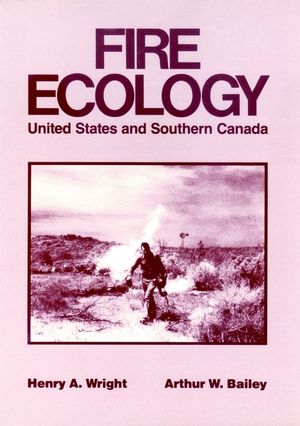 Fire Ecology: United States and Southern Canada
ISBN: 978-0-471-09033-5
Mar 1982
528 pages
Description
Regional Silviculture of the United States, 2nd Edition John W. Barrett This is the only regional silviculture text now on the market. It assesses the significant biological, physical, and economic qualities of forest regions in the continental U.S., and their effect on silviculture practices. The first chapter provides an overview of the forests of the U.S. and introduces the topic of social and institutional constraints on silviculture. Subsequent chapters each deal with a specific forest region, are written by a person intimately acquainted with the locality, and follow a regular outline to provide cohesion and facilitate regional comparisons. 1980 551 pp. Forest Ecology, 3rd Edition Stephen H. Spurr and Burton V. Barnes The growing interest and literature in this field created a need for a fresh updating of this classic text. It remains a comprehensive yet highly readable account of real world forests, including ecological aspects of successful forest management. Broad coverage embraces genetics and variation, environmental factors, site, community relations, ecosystem studies, glacial forest history, post-settlement history, compostition and succession. 1980 687 pp. Wildlife Biology, 2nd Edition Raymond F. Dasmann This updated and revised edition of the standard introductory text brings together the principles of ecology and population biology and the practice of wildlife conservation and management. It presents basic information on the value and present status of wild animal life, including a history of human relationships with and attitudes toward wildlife. Examines wildlife within the context of ecosystems, indicating why single-species approaches to conservation and management often fail. 1981 212 pp.
Temperature and Heat Effects.

Soil and Water Properties.

Wildlife.

Grasslands.

Semidesert Grass-Shrub.

Sagebrush-Grass.

Chaparral and Oakbrush.

Pinyon-Juniper.

Ponderosa Pine.

Douglas Fir and Associated Communities.

Spruce-Fir.

Red and White Pine.

Coastal Redwood and Giant Sequoia.

Southeastern Forests.

Prescribed Burning.