Firefox For Dummies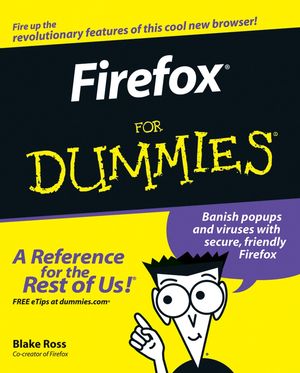 Firefox For Dummies
ISBN: 978-0-471-74899-1 January 2006 384 Pages
Description
Firefox For Dummies gives you the inside scoop on the exciting new browser from the Web wizard that got it started. The book's author, Blake Ross, began developing Firefox as a teenager. Once available to the world, the simple and powerful tool was an instant hit claiming a sizable share of the Web browser market with over 140 million downloads.
In this book Blake not only gives you the lowdown on how to use Firefox for safe Web searching, but he also shares his insight into how the product came to life. It's a combination of practical tech insight and a good story that is rare in computer books.
Topics covered include downloading and installing Firefox, creating a home page, searching with Google, creating customized themes and toolbars, using tabbed browsing, downloading and saving files, maintaining security and privacy, eliminating annoying popups, and adding Firefox extensions.
Introduction.
Part I: Getting Fired Up.
Chapter 1: Why You Should Fire Your Old Browser.
Chapter 2: Finding Your Way Around Firefox.
Chapter 3: Setting Up Firefox.
Part II: Ready, Aim, Firefox.
Chapter 4: Finding Information Online.
Chapter 5: Bookmarking Great Sites.
Chapter 6: Returning to Sites You've Visited.
Chapter 7: Browsing with Tabs.
Chapter 8: Filling In Forms Quickly.
Chapter 9: Blocking Popup Ads.
Chapter 10: E-Mailing with Thunderbird.
Chapter 11: Downloading and Saving Files.
Chapter 12: Printing Web Pages.
Chapter 13: Finding Additional Help.
Part III: Outfoxing Hackers.
Chapter 14: Clearing Your Tracks.
Chapter 15: Staying Safe Online.
Part IV: Dressing Up the Fox.
Chapter 16: Setting Your Options.
Chapter 17: Finding Your Dream Theme.
Chapter 18: Tailoring Your Toolbars.
Chapter 19: Controlling the Way Web Sites Look.
Chapter 20: Extending Firefox.
Part V: The Part of Tens.
Chapter 21: Ten Secrets to a Foxier Web.
Chapter 22: The Ten Best Firefox Extensions.
Appendix A: Firefox Menu Reference.
Appendix B: Firefox Keyboard Reference.
Appendix C: Firefox Drag-and-Drop Reference.
Index.