First Person Accounts of Mental Illness and Recovery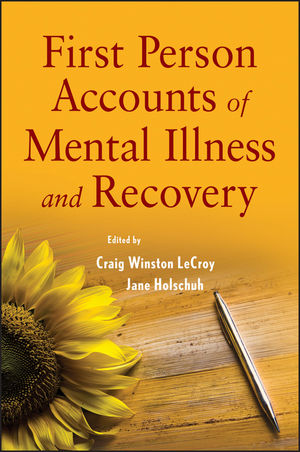 First Person Accounts of Mental Illness and Recovery
ISBN: 978-1-118-22024-5
Sep 2012
516 pages
Description
In First Person Accounts of Mental Illness, case studies of individuals experiencing schizophrenia, mood disorders, anxiety disorders, personality disorders, substance use disorders, and other mental ailments will be provided for students studying the classification and treatment of psychopathology. All of the cases are written from the perspective of the mentally ill individual, providing readers with a unique perspective of the experience of living with a mental disorder.

"In their book First Person Accounts of Mental Illness and Recovery, LeCroy and Holschuh offer the student, researcher, or layperson the intimate voice of mental illness from the inside. First Person Accounts of Mental Illness and Recovery is a wonderful book, and it is an ideal, even indispensable, companion to traditional mental health texts. I am grateful that they have given the majority of this book to the voices that are too often unheard."
—John S. Brekke, PhD, Frances G. Larson Professor of Social Work Research, School of Social Work, University of Southern California; Fellow, American Academy of Social Work and Social Welfare

"This is absolutely a must-read for anyone who has been touched by someone with a mental illness, whether it be personal or professional. It is imperative that this book be required reading in any course dealing with psychopathology and the DSM, whether it be in psychology, psychiatry, social work, nursing, or counseling."
—Phyllis Solomon, PhD, Professor in the School of Social Policy & Practice and Professor of Social Work in Psychiatry at the University of Pennsylvania

A unique volume of first person narratives written from the perspective of individuals with a mental illness

Drawing from a broad range of sources, including narratives written expressly for this book, self-published accounts, and excerpts from previously published memoirs, this distinctive set of personal stories covers and illustrates a wide spectrum of mental disorder categories, including:
Schizophrenia and other psychotic disorders
Mood disorders
Anxiety disorders
Personality disorders
Substance-related disorders
Eating disorders
Impulse control disorders
Cognitive disorders
Somatoform disorders
Dissociative disorders
Gender identity disorders
Sleep disorders
Disorders usually first diagnosed in infancy, childhood, or adolescence
Reflecting a recovery orientation and strengths-based approach, the authentic and relevant stories in First Person Accounts of Mental Illness and Recovery promote a greater appreciation for the individual's role in treatment and an expansion of hope and recovery.
Acknowledgments xv
Introduction xvii
About the Editors xxxi
1 Schizophrenia and Other Psychotic Disorders 1
Schizophrenia 6
The Best Medicine 6
Susan A. Salsman
Recovery as Discovery 9
Paolo Scotti
Understanding Health as a Continuum 14
Leslie Greenblat
Psychiatry and Oppression: A Personal Account of Compulsory Admission and Medical Treatment 19
Benjamin Gray
Powerful Choices: Peer Support and Individualized Medication Self-Determination 25
Corinna West
Schizoaffective Disorders 38
Snapshots: The First Symptoms of Psychosis 38
Kristen B. Fowler
Why Having a Mental Illness Is Not Like Having Diabetes 43
Anonymous
2 Mood Disorders 49
Depressive Disorders 53
Depression: Disease, Loneliness, Social Isolation, Suicide, Negative Thoughts . . . 53
Bec Morrison
My Confession: My Life Had Come to a Stop 57
Leo Tolstoi
Willow Weep for Me: A Black Woman's Journey Through Depression 61
Meri Nana-Ama Danquah
I Wish I Had Gotten Help Sooner: My Struggle With Postpartum Depression 66
Marcie Ramirez
My Journey Through Postpartum Depression 72
Jessica Rodrigo-Dunican
Bipolar Disorders 76
Living with the Dragon: The Long Road to Self-Management of Bipolar II 76
Peter Amsel
On Madness: A Personal Account of Rapid Cycling Bipolar Disorder 91
Anonymous
Random Scribblings on Bipolar Disorder 97
Michael Napiorkowski
Being Bipolar: Living on Both Sides of the Coin 101
Susan Michele Vale
3 Anxiety Disorders 105
Panic Disorder 108
You Have Anxiety? 108
Kelly Orbison
Susan's Story 115
Susan Ludeman
Phobias 122
On the Outside Looking In 122
Daniela Grazia
Mysophobia 133
Catherine Taylor
Obsessive-Compulsive Disorder (OCD) 142
Flux 142
Frank R. DeFulgentis
Rituals, Routines, and Recovery: Living With OCD 153
Jared Douglas Kant with Martin Franklin and Linda Wasmer Andrews
"It'll Be Okay." How I Kept Obsessive-Compulsive Disorder (OCD) From Ruining My Life 160
Shannon Shy
Posttraumatic Stress Disorder (PTSD) 175
Emotional Triangle 175
Blazie Holling
Panic, Anxiety, PTSD, and My Experiences of Healing Through Multiple Avenues of Psychotherapy 181
Catherine McCall
The Demons of War Are Persistent: A Personal Story of Prolonged PTSD 189
Art W. Schade
4 Personality Disorders 197
My Path to Recovery 199
Melanie Green
A "Classic" Case of Borderline Personality Disorder 203
Lynn Williams
Loud in the House of Myself 207
Stacy Pershall
5 Substance-Related Disorders 215
Goodbye, Johnnie Walker 217
Neil Davidson
Untitled 228
Aaron J. French
A Nurse's Journey Through Loss, Addiction, and Recovery 232
Michelle Walter
6 Eating Disorders 237
Dying by Inches 239
Emily Troscianko
Big Little 263
Priscilla Becker
Binging and Purging to Stay Alive 276
Anonymous
Life With an Eating Disorder 281
Laura Bette
7 Impulse Control Disorders 285
The Numbers of My Obsession 286
Mia Zamora
Memoirs of a Compulsive Firesetter 294
Sarah Wheaton
Dan's Story 298
Anonymous
8 Delirium, Dementia, and Amnestic and Other Cognitive Disorders 303
Before It's Too Late 306
Jane McAllister
Poor Memory: A Case Report 310
Malcolm L. Meltzer
Parkinson's: A Patient's View 317
Sidney Dorros
9 Somatoform Disorders 323
A Psychosomatic Study of Myself 325
F. Wertham
Bigorexia: Bodybuilding and Muscle Dysmorphia 339
Anonymous
Hypochondria 341
Heather Menzies Jones
10 Dissociative Disorders 345
Coping Strategies 348
Ruth Dee
Family Talk 358
Barbara Hope
Fractured Mind, One Heart? 361
Robert B. Oxnam
11 Sexual and Gender Identity Disorders 365
Sexual Pain Disorders 369
Vaginismus: The Blessing of Botox 369
Rachel
Paraphilias 374
The Armed Robbery Orgasm: A Lovemap Autobiography of Masochism 374
Ronald Keys and John Money
Gender Identity Disorders 377
A Rose in Bloom 377
April Rose Schneider
Time for a Good Transgender Story 388
Kam Wai Kui
12 Sleep Disorders 401
An Insomniac's Slant on Sleep 404
Gayle Greene
My Story of Narcolepsy 414
Patricia Higgins
13 Disorders Usually First Diagnosed in Infancy, Childhood, or Adolescence 421
Pervasive Developmental Disorders 426
Communication Impairment 426
John Elder Robison
Alien: A Story of Asperger's Syndrome 431
Stephanie Mayberry
The Experience of Infantile Autism 440
Tony W.
Attention-Deficit/Hyperactivity Disorder (ADHD) 444
The Only Me That We Have Ever Known 444
Katy Rollins
Tic Disorders 450
A Tourette Story 450
Rick Fowler
Searching for Answers 455
Crystal Thomas
Index 467