First-Time Leaders of Small Groups: How to Create High Performing Committees, Task Forces, Clubs and Boards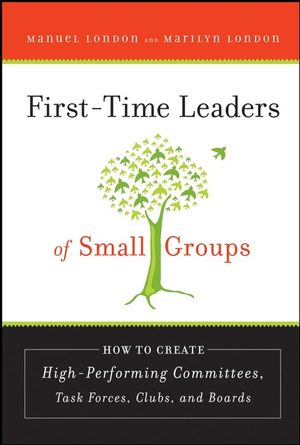 First-Time Leaders of Small Groups: How to Create High Performing Committees, Task Forces, Clubs and Boards
ISBN: 978-0-787-99587-4
Apr 2007, Jossey-Bass
288 pages
Description
First-Time Leaders of Small Groups offers novice and experienced leaders the information they need to keep their members interested and involved, resolve conflicts and deal with difficult people, and ultimately have their group achieve results . . . quickly. The book includes four steps for preparing to lead (selecting members, setting the groundwork for high performance, planning, and establishing your leadership style) and four steps for taking the lead (starting right, working smart, coaching, and assessing). These steps will help you take the lead with confidence. First-Time Leaders of Small Groups is filled with illustrative examples of a wide range of small groups and provides clear suggestions for action. The book includes:
Questions and answers based on research on what works well, and what does not
Diagnostics for determining your group's strengths and weaknesses
Leadership challenges—ideas for overcoming common difficulties
Self-assessments to help build confidence as a group leader
Examples of approaches for different group situations
Models for understanding how groups work
Activities for improving group functions
Key research findings
Easy-to-follow suggestions for practice
Preface.
Acknowledgments.
About the Authors.
PART ONE: PREPARING TO LEAD.
1. Identifying Types of Groups and Their Leadership Challenges.
2. Setting the Groundwork for a High-Performing Group.
3. Planning Your Group's Development.
4. Determining Your Leadership Style.
PART TWO: TAKING THE LEAD.
5. Getting Off to the Right Start.
6. Working Smart.
7. Helping Your Group Learn to Get Better.
8. Assessing Your Group's Progress and Achievements.
Appendix A: Quick Start Guide.
Appendix B: Negotiation and Conflict Resolution Strategies.
Appendix C:A Primer on Giving and Receiving Feedback .
References.
""This book was written for a wide audience and the information is applicable in any group setting."" (NACADA, Nov 20, 2007)