First Year, Worst Year: Coping with the unexpected death of our grown-up daughter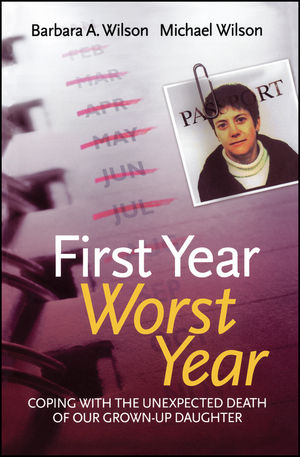 First Year, Worst Year: Coping with the unexpected death of our grown-up daughter
ISBN: 978-0-470-09360-3
Aug 2005
214 pages
Description
When clinical psychologist Barbara Wilson was faced with the devastating loss of her adult daughter Sarah, her professional skills were sorely tested. How she, her husband Mick, and their family came to terms with their loss is detailed in First Year, Worst Year, a moving memoir of survival during and after bereavement. Filled with photos of the Wilson family and their journey retracing the last moments of their daughter, who perished in a rafting accident in Peru, this book is a testament to the resilience of the human heart, even after it's been broken.
Foreword.
Acknowledgements.
INTRODUCTION.
CHAPTER 1: There's terrible, terrible news.
CHAPTER 2: Sarah lovely, Sarah happy.
CHAPTER 3: You were not fragile until you were fearless.
CHAPTER 4: It's OK, I can talk about it.
CHAPTER 5: I always flirt with death.
CHAPTER 6: Can you make a phone call if you're dead?
CHAPTER 7: We kiss the joy as it flies.
CHAPTER 8: The final goodbye: ''Forever Young''.
EPILOGUE: Last word from Sarah (as it were).
References.
"...portrays the challenge of getting through each day in a state of grief, trauma and shock." (Human Givens Journal, Vol.11, No.4, 2004)
"...a potentially useful resource..." (Journal of Mental Health, Vol 14 (3) 2005)