Firsthand America: A History of the United States, Volume 2, 8th Edition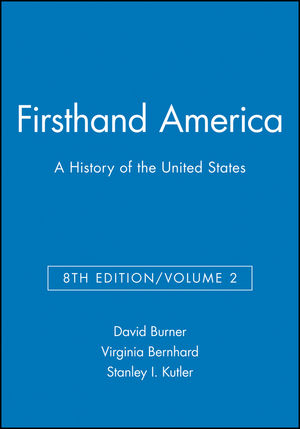 Firsthand America: A History of the United States, Volume 2, 8th Edition
ISBN: 978-1-933-38503-7 July 2005 Wiley-Blackwell 656 Pages
Description
All comprehensive United States survey textbooks, including this one, give full coverage to standard political, economic, diplomatic, and legal events. But these elements of history are largely the story of elites. This textbook also provides social history captured in the recognizable lives of ordinary people. Presidents, congressmen, and corporate executives are quoted throughout the book. So are soldiers, slaves, indentured servants, cowboys, working girls and women, and civil rights activists. Firsthand America, using more than 2,000 quotations, therefore gives due place both to the traditional leaders and to the myriad Americans never named in formal historians.
15. "Been in the Storm So Long": Emancipation and Reconstruction.
16. Industrialism and Labor Strife 1865-1900.
17. The West and South 1865-1900.
18. City and Farm 1665-1900.
19. Culture and Political Thought in an Industrializing Nation.
20. The Outward Thrust 1865-1909.
21. The Progressive Spirit.
22. Progressivism in Peace and War 1900-1918.
23. The New Era.
24. The New Deal.
25. Diplomacy and War 1933-1945.
26. Postwar Politics and the Cold War.
27. Consensus and Division: 1953-1965.
28. American Society and the Vietnam War.
29. New Boundaries.
30. The New Millennium.
Appendixes.
Index.


New materials on Moctezuma, Cortes, their defenders and detractors; also continuing coverage of the Iraq war in close response to the latest news reports.


Fresh section openings on Bartoleme de las casas, colonial architecture times, the Cane Ridge Revival, the war with the Barbary States, free people of color, the eugenics movement, Pentecostalism, Amos 'n Andy, 9/11, and the latest events in the Middle East.


Four-color maps at the front and back of the volume


Conclusion of each chapter contains a dialogue between two notable American historians